01.12.2017 | Research article | Ausgabe 1/2017 Open Access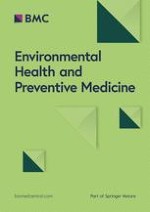 Effects of gaps in priorities between ideal and real lives on psychological burnout among academic faculty members at a medical university in Japan: a cross-sectional study
Zeitschrift:
Autoren:

Yuki Chatani, Kyoko Nomura, Saki Horie, Keisuke Takemoto, Masumi Takeuchi, Yukifumi Sasamori, Shinichi Takenoshita, Aya Murakami, Haruko Hiraike, Hiroko Okinaga, Derek Smith
Abstract
Background
Accumulating evidence from medical workforce research indicates that poor work/life balance and increased work/home conflict induce psychological distress. In this study we aim to examine the existence of a priority gap between ideal and real lives, and its association with psychological burnout among academic professionals.
Methods
This cross-sectional survey, conducted in 2014, included faculty members (228 men, 102 women) at a single medical university in Tokyo, Japan. The outcome of interest was psychological burnout, measured with a validated inventory. Discordance between ideal- and real-life priorities, based on participants' responses (work, family, individual life, combinations thereof), was defined as a priority gap.
Results
The majority (64%) of participants chose "work" as the greatest priority in real life, but only 28% chose "work" as the greatest priority in their conception of an ideal life. Priority gaps were identified in 59.5% of respondents. A stepwise multivariable general linear model demonstrated that burnout scores were associated positively with respondents' current position (
P
 < 0.0018) and the presence of a priority gap (
P
 < 0.0001), and negatively with the presence of social support (
P
 < 0.0001). Among participants reporting priority gaps, burnout scores were significantly lower in those with children than in those with no children (
P
interaction
 = 0.011); no such trend was observed in participants with no priority gap.
Conclusions
A gap in priorities between an ideal and real life was associated with an increased risk of burnout, and the presence of children, which is a type of "family" social support, had a mitigating effect on burnout among those reporting priority gaps.