09.04.2020 | Review Article | Ausgabe 2/2020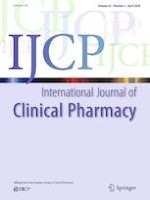 Effects of generic exchange of solid oral dosage forms in neurological disorders: a systematic review
Zeitschrift:
Autoren:

Johanna Weitzel, Susanne Erzkamp, Klaus Langer, Olaf Rose
Wichtige Hinweise
Prospero Registration Number: CRD42019111987.
Publisher's Note
Springer Nature remains neutral with regard to jurisdictional claims in published maps and institutional affiliations.
Abstract
Background
Generic drug exchange is common practice in most healthcare systems. While generics certainly contribute to economic savings, the altered drug formulation might be associated with potential therapeutic problems. Given the narrow therapeutic windows in neurologic indications, any detrimental effect on the therapy can lead to significant consequences.
Aim of the review
This review aims to investigate potential problems related to a switch from brand-name to generic or from generic to generic drug products in patients with neurologic diseases.
Method
The review was conducted following the PICO framework and the PRISMA guidelines. MEDLINE and Scopus databases were searched for articles published in English and German language between January 1, 1995 and October 17, 2018. Studies included in this review were randomized controlled studies, reviews, systematic reviews, overviews, cohort studies and case–control studies. Studies excluded were letters, comments, authors view, congress or seminar papers and studies with a focus on economic impact or costs. Results were synthesized qualitatively. The primary outcomes were pharmacokinetic parameters such as the area under the curve (AUC), the peak serum concentration (c
max
) or the time at which c
max
is observed (t
max
).
Results
The search identified 67 studies with a great variety of endpoints and study designs. The leading indication was epilepsy. Two small RCTs were found on lamotrigine switch. Analysis of the other studies found no significant differences in pharmacokinetic parameters when switching to generic drugs. A more heterogeneous picture was revealed regarding hospitalizations, breakthrough seizures, failure of therapy, adherence and patient concerns.
Conclusion
While most reports were of poor quality, lamotrigine was the drug with the best available data. Summarizing the results of the available studies, pharmacokinetic parameters of antiepileptic drugs show low deviation. In contrast, data on clinical parameters are less consistent. Some studies found increased seizure frequencies and adverse-drug events, while others showed no complications. Adherence and patient satisfaction seemed to be impaired. In daily practice, generic exchange in epilepsy should be a carefully balanced decision, conducted with great caution. Further research is needed, especially regarding neurologic indications other than epilepsy.