01.12.2015 | Research article | Ausgabe 1/2015 Open Access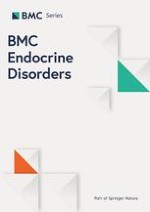 Effects of hypoxia inducible factor-1α on apoptotic inhibition and glucocorticoid receptor downregulation by dexamethasone in AtT-20 cells
Zeitschrift:
Autoren:

Chenran Zhang, Qiang Qiang, Ying Jiang, Liuhua Hu, Xuehua Ding, Yicheng Lu, Guohan Hu
Wichtige Hinweise
Chenran Zhang, Qiang Qiang and Ying Jiang contributed equally to this work.
Competing interests
The authors declare that they have no competing interests.
Authors' contributions
QQ, JY and HLH participated in patient selection/sample collections, laboratory measurements and data analysis. HGH participated in the study design and in the supervision of apoptosis detection. DXH and LYC participated in patient selection, study design and laboratory evaluations. ZCR participated in study design and laboratory measurements, supervised data collection and analysis and wrote the manuscript. All authors revised the manuscript. All authors read and approved the final manuscript.
Abstract
Background
Hypoxia inducible factor-1α (HIF-1α) is the central transcriptional regulator of hypoxic responses during the progression of pituitary adenomas. Although previous immunohistochemical studies revealed that HIF-1α is expressed in adreno-cortico-tropic-hormone (ACTH) pituitary adenomas, the role of HIF-1α remains unclear.
Methods
AtT-20 cells were incubated under hypoxic conditions (1 % O2) for 12 h. HIF-1α mRNA and protein expression levels were measured by real-time PCR and western blotting, respectively. BrdU was used to determine the effects of hypoxia on cell viability. AtT-20 cells were transfected with siRNA targeting HIF-1α, followed by hypoxia (1 % O2) for 12 h. Apoptosis was determined by annexin V-FITC flow cytometry and Tdt-mediated dUTP nick end-labelling (TUNEL) assay. In addition, we examined interactions between HIF-1α, glucocorticoid receptor (GR), and dexamethasone under both normoxic and hypoxic conditions.
Results
Hypoxia triggered the time-dependent proliferation of AtT-20 cells in association with increased HIF-1α mRNA and protein levels. However, the viability of AtT-20 cells decreased greatly when they were first transfected with HIF-1α-siRNA and then exposed to hypoxia. According to flow cytometry (annexin V-FITC and PI staining) and TUNEL analyses, a greater percentage of cells were apoptotic when transfected with HIF-1α siRNA and subsequently cultured under hypoxic conditions compared to those in the normoxia and mock groups. After AtT-20 cells were cultured in 1 % O2 and then treated with dexamethasone, HIF-1α levels significantly increased or decreased in normoxic or hypoxic conditions, respectively. Dexamethasone suppressed GR expression to a higher degree in hypoxic than normoxic conditions. Downregulation of GR by dexamethasone was greatly prevented in cells that were transfected with HIF-1α siRNA.
Conclusions
These findings strongly suggest that HIF-1α exerts an antiapoptotic role and participates in the downregulation of GR by dexamethasone in hypoxic AtT-20 cells.