16.05.2019 | Original Research | Sonderheft 1/2019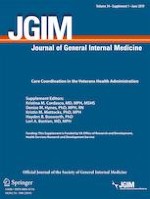 Effects of Intensive Primary Care on High-Need Patient Experiences: Survey Findings from a Veterans Affairs Randomized Quality Improvement Trial
Zeitschrift:
Autoren:

MD, MS Donna M. Zulman, MD, MSHS Evelyn T. Chang, MPH Ava Wong, PhD, MHS Jean Yoon, PhD Susan E. Stockdale, MD, PhD Michael K. Ong, MD, MSPH Lisa V. Rubenstein, MD, MSHS Steven M. Asch
Wichtige Hinweise
Electronic supplementary material
Publisher's Note
Springer Nature remains neutral with regard to jurisdictional claims in published maps and institutional affiliations.
Abstract
Background
Intensive primary care programs aim to coordinate care for patients with medical, behavioral, and social complexity, but little is known about their impact on patient experience when implemented in a medical home.
Objective
Determine how augmenting the VA's medical home (Patient Aligned Care Team, PACT) with a PACT-Intensive Management (PIM) program influences patient experiences with care coordination, access, provider relationships, and satisfaction.
Design
Cross-sectional analysis of patient survey data from a five-site randomized quality improvement study.
Participants
Two thousand five hundred sixty-six Veterans with hospitalization risk scores ≥ 90th percentile and recent acute care.
Intervention
PIM offered patients intensive care coordination, including home visits, accompaniment to specialists, acute care follow-up, and case management from a team staffed by primary care providers, social workers, psychologists, nurses, and/or other support staff.
Main Measures
Patient-reported experiences with care coordination (e.g., health goal assessment, test and appointment follow-up, Patient Assessment of Chronic Illness Care (PACIC)), access to healthcare services, provider relationships, and satisfaction.
Key Results
Seven hundred fifty-nine PIM and 768 PACT patients responded to the survey (response rate 60%). Patients randomized to PIM were more likely than those in PACT to report that they were asked about their health goals (AOR = 1.26;
P
 = 0.046) and that they have a VA provider whom they trust (AOR = 1.35;
P
 = 0.005). PIM patients also had higher mean (SD) PACIC scores compared with PACT patients (2.91 (1.31) vs. 2.75 (1.25), respectively;
P
 = 0.022) and were more likely to report 10 out of 10 on satisfaction with primary care (AOR = 1.25;
P
 = 0.048). However, other effects on coordination, access, and satisfaction did not achieve statistical significance.
Conclusions
Augmenting VA's patient-centered medical home with intensive primary care had a modestly positive influence on high-risk patients' experiences with care coordination and provider relationships, but did not have a significant impact on most patient-reported access and satisfaction measures.