26.08.2018 | Original Article | Ausgabe 1/2019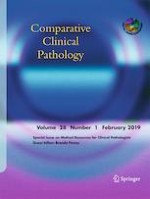 Effects of lead (Pb) exposure on some blood biochemical indices in
Cyprinus carpio

: potential alleviative effects of thiamine
Zeitschrift:
Autoren:

Kimiya Nourian, Davar Shahsavani, Hasan Baghshani
Abstract
The aim of the present work was to study the alleviative properties of thiamine-supplemented fish diet on serum levels of Pb and some biochemical alterations provoked by Pb intoxication in carp. Fish in group 1 formed the untreated control group while fish in groups 2 and 3 received lead acetate (5 ppm) for 15 days. Group 3 was administered with thiamine (50 mg/kg diet) during lead exposure. The results revealed significantly raised levels of circulating Pb and malondialdehyde in group 2 compared to the control group. Significant decreases in circulating Pb and malondialdehyde contents in group 3 were observed following thiamine administration, as compared to group 2. Plasma values of alanine aminotransferase (ALT), urea, creatinine, and uric acid increased in group 2 compared to the control group, although the increase was only significant (
p
< 0.05) for ALT and creatinine. Thiamine supplementation effectively decreased ALT and creatinine concentrations to the levels observed in the apparently healthy controls. The other plasma biochemical indices quantified did not exhibit any significant modifications among experimental groups. These results are indicative of some variations caused by Pb intoxication in some plasma indices which signify the toxicity of Pb in
Cyprinus carpio
. Moreover, co-administration of thiamine with Pb notably reversed the expression of circulating biochemical biomarkers provoked by lead poisoning.