01.12.2018 | Research | Ausgabe 1/2018 Open Access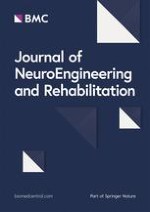 Effects of long-term balance training with vibrotactile sensory augmentation among community-dwelling healthy older adults: a randomized preliminary study
Zeitschrift:
Autoren:

Tian Bao, Wendy J. Carender, Catherine Kinnaird, Vincent J. Barone, Geeta Peethambaran, Susan L. Whitney, Mohammed Kabeto, Rachael D. Seidler, Kathleen H. Sienko
Abstract
Background
Sensory augmentation has been shown to improve postural stability during real-time balance applications. Limited long-term controlled studies have examined retention of balance improvements in healthy older adults after training with sensory augmentation has ceased. This pilot study aimed to assess the efficacy of long-term balance training with and without sensory augmentation among community-dwelling healthy older adults.
Methods
Twelve participants (four males, eight females; 75.6 ± 4.9 yrs) were randomly assigned to the experimental group (
n
= 6) or control group (n = 6). Participants trained in their homes for eight weeks, completing three 45-min exercise sessions per week using smart phone balance trainers that provided written, graphic, and video guidance, and monitored trunk sway. During each session, participants performed six repetitions of six exercises selected from five categories (static standing, compliant surface standing, weight shifting, modified center of gravity, and gait). The experimental group received vibrotactile sensory augmentation for four of the six repetitions per exercise via the smart phone balance trainers, while the control group performed exercises without sensory augmentation. The smart phone balance trainers sent exercise performance data to a physical therapist, who recommended exercises on a weekly basis. Balance performance was assessed using a battery of clinical balance tests (Activity Balance Confidence Scale, Sensory Organization Test, Mini Balance Evaluation Systems Test, Five Times Sit to Stand Test, Four Square Step Test, Functional Reach Test, Gait Speed Test, Timed Up and Go, and Timed Up and Go with Cognitive Task) before training, after four weeks of training, and after eight weeks of training.
Results
Participants in the experimental group were able to use vibrotactile sensory augmentation independently in their homes. After training, the experimental group had significantly greater improvements in Sensory Organization Test and Mini Balance Evaluation Systems Test scores than the control group. Significant improvement was also observed for Five Times Sit to Stand Test duration within the experimental group, but not in the control group. No significant improvements between the two groups were observed in the remaining clinical outcome measures.
Conclusion
The findings of this study support the use of sensory augmentation devices by community-dwelling healthy older adults as balance rehabilitation tools, and indicate feasibility of telerehabilitation therapy with reduced input from clinicians.