01.12.2018 | Research article | Ausgabe 1/2018 Open Access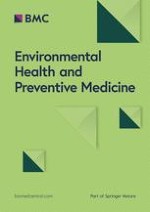 Effects of low-intensity bodyweight training with slow movement on motor function in frail elderly patients: a prospective observational study
Zeitschrift:
Autoren:

Kanae Kanda, Takeshi Yoda, Hiromi Suzuki, Yugo Okabe, Yutaka Mori, Kunihisa Yamasaki, Hiroko Kitano, Aya Kanda, Tomohiro Hirao
Abstract
Background
Slow-motion training, an exercise marked by extremely slow movements, yields a training effect like that of a highly intense training, even when the applied load is small. This study evaluated the effects of low-intensity bodyweight training with slow movement on motor function in frail, elderly patients.
Methods
Ninety-seven elderly men and women aged 65 years or older, whose level of nursing care was classified as either support required (1 and 2) or long-term care required (care level 1 and 2), volunteered to participate. Two facilities were used. Participants in the first facility used low-intensity bodyweight training with slow movement (the LST group,
n
 = 65), and participants in another facility used machine training (the control group,
n
 = 31). Exercises were conducted for 3 months, once or twice a week, depending on the required level of nursing care. Changes in motor function were examined.
Results
Post-exercise measurements showed significant improvements from the pre-exercise levels after 3 months, based on the results of the Timed Up and Go test (
p
 = 0.0263) and chair-stand test (
p
 = 0.0016) in the low-intensity exercise with slow movement and tonic force generation (LST) group. Although the ability to stand on one leg with eyes open tended to improve, no significant change was found (
p
 = 0.0964).
Conclusions
We confirmed that carrying out LST bodyweight training for 3 months led to improvements in ambulatory function and lower-limb muscle strength. In this way, it is possible that LST training performed by holding a bar or by staying seated on a chair contributes to improved motor function in elderly patients within a short time.
Trial registration
UMIN000030853
. Registered 17 January 2018. (retrospectively registered).