07.10.2016 | Original Article | Ausgabe 1/2017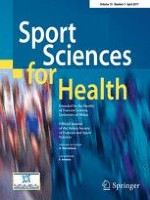 Effects of multicomponent training on pulmonary function, functional capacity and quality of life in older adults with type 2 diabetes
Zeitschrift:
Autoren:

Silvia R. Barrile, Caroline G. M. Valderramas, Ana J. Nunes, Alessandro D. Heubel, Eduardo A. Arca, Helen C. T. Iwamoto, Bruno Martinelli, Silvio A. Fernandes Jr., Camila Gimenes
Abstract
Background
Type 2 diabetes (T2D) is a prevalent disease in older people and it is associated with reduced pulmonary function, decline of functional capacity and worst quality of life. Multicomponent exercise training is recommended to improve motor skills of older persons, but their effects in treatment of T2D are not certain. Therefore, this study aimed to verify the effects of a multicomponent training on pulmonary function, functional capacity and quality of life in older adults with T2D.
Design and methods
Eight diabetics aged >60 years performed a multicomponent training for 12 weeks, 3 days/week and 80 min/day. Before and after training program, the subjects were evaluated in relation to pulmonary function (spirometry, manovacuometry and ventilometry), functional capacity [timed up and go test (TUG) and 6-min walk test (6MWT)] and quality of life, with the Short-Form Health Survey (SF-36) questionnaire.
Results
Training induced significant improvement in maximal voluntary ventilation (
p
= 0.0009), forced vital capacity (
p
= 0.03), forced expiratory volume in the first second (
p
= 0.0004), TUG test (
p
= 0.02), 6MWT (
p
= 0.04), and in five SF-36 domains (functional capacity, physical aspects limitation, pain, vitality and social aspects). No changes in respiratory maximal pressure values and slow vital capacity were observed.
Conclusions
Multicomponent training can be an alternative to improve functional capacity, quality of life and some respiratory parameters in older adults with T2D.