01.12.2014 | Original Article | Ausgabe 3/2014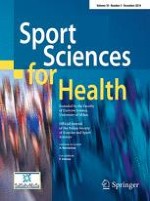 Effects of physical fitness on waist circumference in a group of school children living in Southern Italy
Zeitschrift:
Autoren:

Domenico Martone, Luca Russomando, Francesca Gallè, Valeria Gallarato, Caterina Mancusi, Roberto Mastronuzzi, Giuliana Valerio, Giorgio Liguori, Pasqualina Buono
Abstract
Purpose
Physical fitness (PF) is considered an important health marker already in youth with positive influence on adult health. The aim of this study was to investigate the effects of overweight/obesity on most relevant health-related physical fitness (HRPF) components in a group of school-age children.
Methods
One hundred and thirteen children (49 male; 64 female; 11–13 years) living in Naples were recruited for the study. Height, weight, waist circumference (WC) and Body Mass Index (BMI) were measured. Physical activity (PA) level and sedentary time were determined by a standard 7-day recall questionnaire. HRPF components were evaluated using EUROFIT-test battery and other validated tests.
Results
Overweight/obesity accounted for 32 % in our sample. PA level was significantly higher in boys than in girls and was associated with better performance in several PF tests in boys. Further, boys had a significant higher performance than girls in almost all HRPF evaluated (
p
< 0.05) except for sit-and-reach test, independently from PA level. Overweight/obesity specifically impaired performance in bent arm hang and one-half mile run–walk in boys. In addition, boys with higher WC values had poorer performance in 4 × 10 m shuttle run, flamingo balance and standing broad jump tests (
p
< 0.05). One-half mile run–walk test resulted significantly associated with higher WC values in a multiple linear regression analysis in boys (
p
< 0.05).
Conclusions
This study confirms an inverse relationship between overweight/obesity and PF. In particular, high WC values appeared to be strongly associated with poor aerobic performance in boys. Our results also suggest that the ½ mile run–walk test represents a useful test to identify children with a higher cardio-metabolic risk as represented by high abdominal adiposity.