01.12.2016 | Research article | Ausgabe 1/2016 Open Access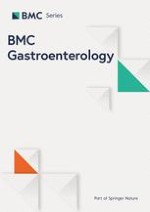 Effects of probiotic type, dose and treatment duration on irritable bowel syndrome diagnosed by Rome III criteria: a meta-analysis
Zeitschrift:
Autoren:

Yan Zhang, Lixiang Li, Chuanguo Guo, Dan Mu, Bingcheng Feng, Xiuli Zuo, Yanqing Li
Wichtige Hinweise
Electronic supplementary material
The online version of this article (doi:
10.​1186/​s12876-016-0470-z
) contains supplementary material, which is available to authorized users.
Background
Irritable bowel syndrome (IBS) is characterized by abdominal pain and alterations in bowel habits. It affects 11.2 % of people worldwide [
1
] and is regarded as one of the most common functional gastroenterological diseases [
2
]. Although the exact pathophysiology underlying IBS is still not fully understood, chronic low-grade mucosal inflammation, alterations in gut epithelial and immune function, and visceral hypersensitivity caused by alterations in intestinal microbiota have been shown to be associated with IBS [
3
–
5
]. The current therapeutic options for IBS treatment include low-dose antidepressants, spasmolytics, and 5-HT3 antagonists. However, IBS patients often have variant response to these therapies, and they are also associated with several complications [
6
–
9
]. Antidepressant treatment often causes severe problems, including weight gain, and cannot be tolerated by many patients. Spasmolytics and 5-HT3 antagonists are ineffective for some people, and they may even worsen the symptoms of IBS [
7
]. Moreover, long-term use of these medications in IBS patients can increase the occurrence of various adverse effects [
10
].
New therapeutic options with the potential to alter intestinal microbiota have recently been identified and include the low fermentable, oligo-, di-, monosaccharides, and polyols (FODMAP) diet [
11
], antibiotics [
12
], and probiotics. Probiotics, defined as "live microorganisms that, when administered in adequate amounts, confer a health benefit on the host" [
13
], have the potential to influence the intestinal microbiota. Probiotics may affect intestinal barrier function and exert anti-inflammatory actions [
10
]. To date, many clinical studies have investigated the effects of probiotics in IBS patients, and more than half of these studies demonstrated that probiotic administration is effective in IBS patients [
14
]. Due to differences in the study designs (size of the study, duration of the treatment), probiotic doses, and strains used, clinical studies addressing the efficacy of probiotics in IBS are difficult to compare [
15
]. Several systematic reviews and meta-analyses on the effects of probiotics in IBS patients have been generated, and the majority of results demonstrated that the use of probiotics was beneficial in IBS patients [
14
,
16
–
20
]. Despite these findings, some issues concerning probiotic treatment in IBS patients persist; specifically, the type of probiotic used in different studies varied, combination probiotics and single probiotics were both used, and the doses and treatment durations were also different between studies. Rome III criteria [
21
], based on Rome II criteria, applied 10 years ago, have been used more extensively than Rome I/II and Manning criteria [
22
–
24
]. The Rome II subtyping using multiple criteria was complex and difficult to use in practice. Compared with Rome II criteria, Rome III criteria require a lower frequency of IBS symptoms and focus more on recent symptom severity. The latter change may lead to increased compliance in and comparability between patients enrolled in clinical trials [
2
]. Previous studies also indicated that the Rome III assessment may more accurately reflect the burden of disease and epidemiological features than the Rome II criteria [
25
]. However, no meta-analysis based on studies using the Rome III criteria has been performed to date. Further investigations are clearly needed to establish optimal treatment regimens (the most effective probiotic species and strains, individual or mixture administration), as well as to identify subgroups of patients most likely to benefit from these treatments [
26
].
In this study, we conducted a meta-analysis to assess the efficacy of different types of probiotics in IBS patients with the Rome III criteria serving as the diagnostic criteria. We also analysed the effects of different doses and treatment durations in IBS patients.
Methods
Literature search
We systematically searched the Medline, EMBASE, and Cochrane Central Register of Controlled Trials databases up to October 2015 for studies that investigated the efficacy of probiotic therapy in IBS patients. We used the terms "probiotics" and "irritable bowel syndrome" both as medical subject heading (Mesh) and free text terms. The exact search strategy in Medline was ("probiotics"[MeSH Terms] OR "probiotics"[All Fields]) AND ("irritable bowel syndrome"[MeSH Terms] OR "irritable bowel syndrome"[All Fields]). All eligible studies were retrieved, and the bibliographies were manually checked to identify additional potential studies.
Inclusion and exclusion criteria
Studies were considered eligible if they met the following criteria: (1) the studies were randomized controlled trials (RCTs) that compared probiotics with placebo; (2) the diagnosis of IBS was made according to the Rome III criteria; (3) the treatment duration was >7 days; and (4) dichotomous data on the overall syndrome response to the therapy or continuous score data on the effect on individual IBS symptoms or quality of life (QoL) could be extracted or obtained from the authors. The exclusion criteria were as follows: (1) studies with only an abstract; (2) studies in which probiotics were mixed with other drugs; (3) studies in which data were still unavailable after contacting the authors; and (4) studies in which the control group received probiotics.
Data extraction
Two authors independently extracted the data from each of the eligible articles according to the inclusion and exclusion criteria. The data included the first author, publication year, country, criteria used to diagnose IBS, dose of probiotic, treatment duration and follow-up time, number of patients, mean after-treatment scores along with the standard deviation (s.d.) of individual IBS symptoms (abdominal pain and bloating), and QoL. All data were extracted for intention to treat (ITT) analysis, whereby all dropouts were assumed to be treatment failures. Only the data associated with the longest duration of therapy and largest dose were used to compare the efficacy between probiotic types.
Assessment of risk of bias
Two authors independently performed the assessment of bias risk, with disagreements resolved by discussion. The risk of bias was assessed as described in the Cochrane handbook [
27
] by recording the method used to generate the randomization schedule and the method used for allocation concealment, whether blinding was implemented, the completeness of follow-up, whether there was evidence of selective reporting of outcomes, and other biases.
Statistical analysis
The pooled relative risk (RR) and corresponding 95 % confidence interval (CI) were calculated in the meta-analysis to evaluate the effect of the overall symptom response of IBS patients after treatment. The standardized mean difference (SMD) and 95 % CI were used to evaluate individual IBS symptoms and QoL. The I
2
statistic was calculated to quantify the proportion of the total variation due to heterogeneity, and an I
2
value of > 50 % indicated significant heterogeneity among studies. A random-effects model [
28
] was utilized to provide a more conservative estimate of the effects of probiotic treatment, assuming heterogeneity of treatment effects across studies. Subgroup analyses according to probiotic type, dose, and treatment duration were performed for the assessment of the effects on the overall response, individual IBS symptoms, and QoL. Sensitivity analyses were performed by omitting one study at a time and analysing the remaining studies to assess whether the results were excessively influenced by any single study. The possibility of publication bias was assessed by visual inspection of a funnel plot, and the Egger test was also performed to assess the possibility of publication bias [
29
]. A
P
value of < 0.05 was considered statistically significant. All statistical analyses were conducted using Stata Statistical Software: Release 12 (StataCorp LP; College Station, TX).
Results
Discussion
Conclusions
In conclusion, our results demonstrate that probiotic supplementation is an effective therapy in IBS patients. Single probiotics at a low dose and with a short treatment duration appear to be more effective in improving overall symptom response and QoL. Future studies of the effects of probiotics in IBS should focus on probiotic type, strain, dose, and treatment duration.
Abbreviations
CI, confidence interval; GIQLI, gastrointestinal quality of life index; GSRS, gastrointestinal symptom rating scale; HRQOL, health-related quality of life; IBS, irritable bowel syndrome; IBS-SSS, irritable bowel syndrome-symptom severity score; ITT, intention to treat; MMS, mean symptom composite score; QoL, quality of life; RCT, randomized controlled trial; RR, relative risk; SBDQ, standardized bowel disease questionnaire; SMD, standardized mean difference; VAS, visual analogue scale
Acknowledgements
The authors offer their sincere gratitude to Prof. Samefko Ludidi, CK Yao, Homayoon Vahedi, Philippe Ducrotte, Simone Guglielmetti, and Reuben Wong for responding to our data queries and providing us with their original data.
Funding
This study was supported by the National Natural Science Foundation of China, grant numbers 81330012 and 81370495.
Availability of data and materials
Data are available as shown in additional files.
Author's contributions
YZ and YQL conceived the study, participated in the study design, and drafted the manuscript. LXL and CGG collected the data and performed statistical analyses. DM and BCF collected the data and performed the statistical analyses. XLZ helped conceive the study. YZ drafted the manuscript. YQL and LXL revised the manuscript. All of the authors read and approved the final manuscript.
Competing interests
The authors declare that they have no competing interests.
Consent for publication
Not applicable.
Ethics approval and consent to participate
Not applicable.
Open Access
This article is distributed under the terms of the Creative Commons Attribution 4.0 International License (
http://​creativecommons.​org/​licenses/​by/​4.​0/​
), which permits unrestricted use, distribution, and reproduction in any medium, provided you give appropriate credit to the original author(s) and the source, provide a link to the Creative Commons license, and indicate if changes were made. The Creative Commons Public Domain Dedication waiver (
http://​creativecommons.​org/​publicdomain/​zero/​1.​0/​
) applies to the data made available in this article, unless otherwise stated.