01.12.2018 | Research article | Ausgabe 1/2018 Open Access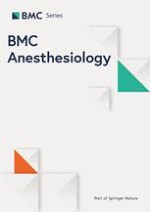 Effects of propofol and etomidate anesthesia on cardiovascular miRNA expression: the different profiles?
Zeitschrift:
Autoren:

Youxiu Yao, Ning Yang, Dengyang Han, Cheng Ni, Changyi Wu, Xiangyang Guo
Wichtige Hinweise
Electronic supplementary material
Abstract
Background
The effects of the intravenous anesthetics propofol and etomidate on circulation are significantly different; however, their differing effects on miRNA expression in the cardiovascular system are not clearly understood. The purpose of this study is to investigate the effects of these two anesthetics on miRNA expression profiles in the heart and blood vessels.
Methods
Rats were randomly divided into a propofol group and an etomidate group. Spontaneous breathing was maintained throughout the anesthesia process and the rats' oxygen supply was ensured. Heart and thoracic aorta tissue was harvested 3 h after induction. The expression profiles of cardiovascular miRNAs were detected by microarray 4.0 analysis. Twelve representative miRNAs were selected for qRT-PCR validation, and their target genes were predicted using bioinformatics methods.
Results
Microarray analysis showed 16 differentially expressed miRNAs in heart tissue from the propofol group compared with the etomidate group (10 up-regulated and 6 down-regulated), while in the blood vessels there were 25 altered miRNAs (10 up-regulated, 15 down-regulated). After verifying 12 representative miRNAs via qRT-PCR, the results showed no significant difference in the expression of miRNAs in the heart tissue, but a significant difference in the expression of 5 miRNAs in vessel tissue between the two groups. Bioinformatics analysis predicts that the target genes of the 5 differentially expressed miRNAs are associated with chemical synapse signaling pathways.
Conclusions
Propofol and etomidate have different effects on the expression of cardiovascular miRNAs, and further research is needed to elucidate the functional consequences of these differentially expressed miRNAs.