20.01.2020 | Systematic Review | Ausgabe 5/2020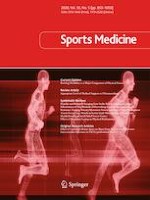 Effects of Ramadan Fasting on Physical Performance: A Systematic Review with Meta-analysis
Zeitschrift:
Autoren:

Abd-Elbasset Abaïdia, Wael Daab, Mohamed Amine Bouzid
Wichtige Hinweise
Electronic supplementary material
Abstract
Background
It is common that several athletes will fast while training or competing during Ramadan. There is currently no consensus on if or how this might affect physical performance.
Objective
The aim was to conduct a systematic review combined with a meta-analysis to determine what are the effects of fasting during the month of Ramadan on physical performance.
Methods
Three electronic databases were searched: PubMed, ScienceDirect, and Web of Science between from the earliest available date to May 2019. Two authors identified studies that evaluated the effects of Ramadan fasting on physical performance. Risk of bias was assessed using the Downs and Black methodological quality checklist. Pooled effects were reported as standardized mean differences (MDs) and 95% confidence intervals (CIs) using a random effects model.
Results
A total of 11 studies met the inclusion criteria. Results revealed that Ramadan fasting had a deleterious effect on mean power and peak power during a Wingate and/or a repeated sprint test. In the morning, sprint performance was negatively affected by Ramadan fasting. Aerobic performance, strength, jump height, fatigue index, and total work were not affected by the intermittent fasting during the month of Ramadan.
Conclusions
The majority of physical performance parameters were not influenced by Ramadan fasting when tested either in the morning or in the afternoon. Athletes appear able to participate in competition in a fasted state with little impact on physical performance. Sleep and nutrition opportunities should be optimized to minimize likelihood of accumulating fatigue.