01.12.2018 | Research | Ausgabe 1/2018 Open Access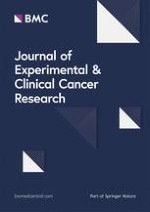 Effects of repurposed drug candidates nitroxoline and nelfinavir as single agents or in combination with erlotinib in pancreatic cancer cells
Zeitschrift:
Autoren:

Serena Veschi, Laura De Lellis, Rosalba Florio, Paola Lanuti, Alberto Massucci, Nicola Tinari, Michele De Tursi, Pierluigi di Sebastiano, Marco Marchisio, Clara Natoli, Alessandro Cama
Wichtige Hinweise
Electronic supplementary material
Abstract
Background
Pancreatic cancer (PC) is the fourth most common cause of cancer death. Combination therapies with classical chemotherapeutic agents improved treatment of advanced PC at the cost of a relevant toxicity, but the 5-year survival rate remains below 5%. Consequently, new therapeutic options for this disease are urgently needed. In this study, we explored the effect of two repurposed drug candidates nelfinavir and nitroxoline, approved for non-anticancer human use, in PC cell lines. Nelfinavir and nitroxoline were tested as single agents, or in combinations with or without erlotinib, a targeted drug approved for PC treatment.
Methods
The effects of the drugs on the viability of AsPC-1, Capan-2 and BxPC-3 PC cell lines were assessed by MTT. The impact of the treatments on cell cycle distribution and apoptosis was analyzed by flow cytometry. The effects of treatments on proteins relevant in cell cycle regulation and apoptosis were evaluated by western blot. Self-renewal capacity of PC cell lines after drug treatments was assessed using a clonogenic assay.
Results
When used as single agents, nelfinavir and nitroxoline decreased viability, affected cell cycle and reduced the expression of relevant cell cycle proteins. The effects on apoptosis were variable among PC cell lines. Moreover, these agents drastically impaired clonogenic activity of the three PC cell lines. Combinations of nelfinavir and nitroxoline, with or without erlotinib, resulted in dose- and cell-dependent synergistic effects on cell viability. These effects were paralleled by cell cycle alterations and more consistent apoptosis induction as compared to single agents. Treatments with drug combinations induced drastic impairment of clonogenic activity in the three cell lines.
Conclusions
This study shows that two non-antitumor drugs, nelfinavir and nitroxoline, as single agents or in combination have antitumor effects that appear comparable, or in some case more pronounced than those of erlotinib in three PC cell lines. Our results support repurposing of these approved drugs as single agents or in combination for PC treatment.