16.12.2019 | Ausgabe 3/2020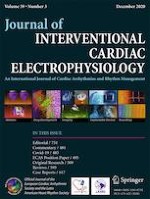 Effects of rivaroxaban on activated clotting time in catheter ablation for atrial fibrillation in Chinese patients
Autoren:

Huang Songqun, Wang Chunling, Guo Zhifu, Huang Xinmiao, Cao Jiang
Wichtige Hinweise
Huang Songqun and Wang Chunling contributed equally to this work and should be considered co-first authors
Publisher's note
Springer Nature remains neutral with regard to jurisdictional claims in published maps and institutional affiliations.
Abstract
Purpose
It has been observed that patients on rivaroxaban require more heparin and frequent activated clotting time (ACT) monitoring throughout the catheter ablation of atrial fibrillation, but the strategy of heparin injection varies in different studies. We sought to examine the determinants of heparin dosage in Chinese patients on rivaroxaban.
Methods
We reviewed consecutive patients who received rivaroxaban before atrial fibrillation ablation and compared them to patients on no anticoagulant. The dosage of heparin required to achieve ACT > 300 s was evaluated. We then tested determinants of heparin dosage prospectively.
Results
There were 124 patients on rivaroxaban (R group) and 42 on no anticoagulant (NA group) in retrospective study. Heparin dosage required to achieve target ACT was 0.89 ± 0.01 mg/kg in R group and 0.60 ± 0.01 mg/kg in NA group,
P
< 0.05. The bolus heparin dosage required was 0.77 ± 0.01 mg/kg (96.1 ± 1.1 U/kg) when baseline ACT > 200 s. In the prospective study, 80/90(88.9%) of patients in R group and 79/90(87.8%) in NA group achieved an ACT > 300 s after initial bolus injection of heparin. The ACT 60 min after target ACT (ACT60) in R group was higher than that in NA group (287.5 ± 28.3 VS 238.9 ± 29.5,
P
< 0.05). Rivaroxaban was the only independent predictor of ACT60. There was no significant difference in ACT or heparin dosage in patients with different duration on or withdrawal of rivaroxaban.
Conclusions
In patients undergoing atrial fibrillation ablation on rivaroxaban, the effective duration of heparin is prolonged and the procedural heparin requirement is significantly greater. Heparin dosage can be predicted by baseline ACT, but not influenced by duration on or withdrawal of rivaroxaban.