01.01.2012 | Original Article | Ausgabe 1/2012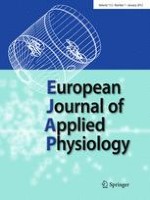 Effects of sleep deprivation and time-of-day on selected physical abilities in off-road motorcycle riders
Zeitschrift:
Autoren:

Clément Bougard, Damien Davenne
Wichtige Hinweise
Communicated by Susan A. Ward.
Abstract
The aim of this study was to observe how the combined effects of time-of-day and sleep deprivation impact motocross riders' physical abilities. Balance, flexibility and maximal anaerobic alactic power were tested across laboratory tests that required only one ability (stork stand test, sit-and-reach test, Abalakov test) or across field tests that concentrated on a particular ability (narrow board riding test, riding under a rod test, long jump riding test) to maximise the sensitivity of the assessments and the interpretability of findings. Eight motocross riders of confirmed level took part in test sessions set up at 0600 and 1800 hours following a normal night's sleep and a night of sleep deprivation, i.e. after 1, 13, 23 and 35 waking hours. On the one hand, the results confirmed the influence of time-of-day on riders' physical abilities, performances being better at 1800 hours than at 0600 hours after the normal night's sleep. On the other hand, as far as sleep deprivation effects are concerned, the results seemed to differ on the basis of the ability under consideration and the type of test that had been set up. Performance in the field tests still presented a diurnal fluctuation, whereas this improvement over the day did not occur for the performance in the laboratory tests. It seems that compensation mechanisms between the various abilities brought into play are set up in order to moderate the effects of the lack of sleep when riding.