01.12.2012 | Original investigation | Ausgabe 1/2012 Open Access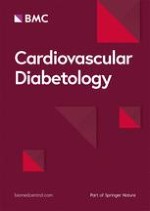 Effects of some anti-diabetic and cardioprotective agents on proliferation and apoptosis of human coronary artery endothelial cells
Zeitschrift:
Autoren:

Linnéa Eriksson, Özlem Erdogdu, Thomas Nyström, Qimin Zhang, Åke Sjöholm
Wichtige Hinweise
Electronic supplementary material
The online version of this article (doi:
10.​1186/​1475-2840-11-27
) contains supplementary material, which is available to authorized users.
Competing interests
Dr. Sjöholm has received research grants, and provided lectures, consultancies and expert testimony to several pharmaceutical companies involved in diabetes care, such as GlaxoSmithKline, Takeda Pharmaceuticals North America, Schering-Plough, Novo-Nordisk, Eli Lilly, Novartis, Aventis, Sanofi-Synthelabo, Bristol-Myers, Squibb, Merck Sharp & Dohme, Pfizer, Boehringer-Ingelheim, Selena-Fournier, Roche Diagnostics, Astra-Zeneca, Bayer, Pharmacia, and Hässle Pharmaceuticals.
Dr. Sjöholm is also on the National and/or European Advisory Boards in Diabetes Care for Eli Lilly, Takeda Pharmaceuticals, Novartis, Sanofi-Aventis, Merck Sharp & Dohme, Boehringer-Ingelheim and Astra-Zeneca.
Authors' contributions
LE and ÖE performed the experimental procedures, performed the statistical calculations, and contributed to results interpretation and discussion. TN, QZ and ÅS provided expertise in diabetes and endothelial dysfunction, the
in vitro
model, and conceived, designed and co-ordinated the research plan, respectively. LE, QZ and ÅS wrote the manuscript. LE, TN, QZ and ÅS contributed to discussion and edited the paper prior to submission. All authors read and approved the final manuscript.
Abstract
Background
The leading cause of death for patients suffering from diabetes is macrovascular disease. Endothelial dysfunction is often observed in type 2 diabetic patients and it is considered to be an important early event in the pathogenesis of atherogenesis and cardiovascular disease. Many drugs are clinically applied to treat diabetic patients. However, little is known whether these agents directly interfere with endothelial cell proliferation and apoptosis. This study therefore aimed to investigate how anti-diabetic and cardioprotective agents affect human coronary artery endothelial cells (HCAECs).
Methods
The effect of anti-diabetic and cardioprotective agents on HCAEC viability, proliferation and apoptosis was studied. Viability was assessed using Trypan blue exclusion; proliferation in 5 mM and 11 mM of glucose was analyzed using [3H]thymidine incorporation. Lipoapoptosis of the cells was investigated by determining caspase-3 activity and the subsequent DNA fragmentation after incubation with the free fatty acid palmitate, mimicking diabetic lipotoxicity.
Results
Our data show that insulin, metformin, BLX-1002, and rosuvastatin improved HCAEC viability and they could also significantly increase cell proliferation in low glucose. The proliferative effect of insulin and BLX-1002 was also evident at 11 mM of glucose. In addition, insulin, metformin, BLX-1002, pioglitazone, and candesartan significantly decreased the caspase-3 activity and the subsequent DNA fragmentation evoked by palmitate, suggesting a protective effect of the drugs against lipoapoptosis.
Conclusion
Our results suggest that the anti-diabetic and cardioprotective agents mentioned above have direct and beneficial effects on endothelial cell viability, regeneration and apoptosis. This may add yet another valuable property to their therapeutic effect, increasing their clinical utility in type 2 diabetic patients in whom endothelial dysfunction is a prominent feature that adversely affect their survival.