01.12.2017 | Research | Ausgabe 1/2017 Open Access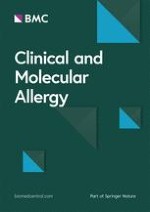 Effects of specific allergen immunotherapy on biological markers and clinical parameters in asthmatic children: a controlled-real life study
Zeitschrift:
Autoren:

I. Djuric-Filipovic, Marco Caminati, D. Filipovic, C. Salvottini, Z. Zivkovic
Abstract
Background
Allergen-specific immunotherapy (AIT) is the only treatment able to change the natural course of allergic diseases. We aimed at investigating the clinical efficacy of SLITOR (Serbian registered vaccine for sublingual allergen specific immunotherapy).
Methods
7–18 years old children with allergic asthma and rhinitis were enrolled and addressed to the active (AIT plus pharmacological treatment) or control (standard pharmacological treatment only) group. Clinical and medications scores, lung function and exhaled FeNO were measured at baseline and at every follow-up.
Results
There was a significant improvement in both nasal and asthma symptom scores as well as in medication score in SLIT group. SLIT showed an important influence on lung function and airway inflammation.
Conclusions
Our data showed that SLITOR was effective not only in terms of patient reported outcomes but an improvement of pulmonary function and decrease of lower airway inflammation were also observed.