20.01.2015 | Original Article | Ausgabe 4/2016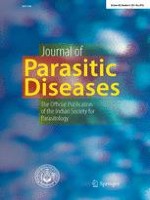 Effects of storage temperature on survival and infectivity of three indigenous entomopathogenic nematodes strains (Steinernematidae and Heterorhabditidae) from Meghalaya, India
Zeitschrift:
Autoren:

Lalramliana, Arun K. Yadav
Abstract
Three locally isolated strains of entomopathogenic nematodes (EPNs), viz.
Heterorhabditis indica
,
Steinernema thermophilum
and
Steinernema glaseri
, from Meghalaya, India were characterized in terms of storage temperature and survival and infectivity of their infective juveniles (IJs). The survival and infectivity of nematode IJs was studied at, 5 ± 2 and 25 ± 2 °C, for a period of 120 days, using deionized water as storage medium. The viability of nematode IJs was checked by mobility criterion at different storage periods, while the infectivity of nematode IJs was ascertained on the basis of establishment of IJs, using
Galleria mellonella
larva mortality tests in petridishes. The results of this study revealed that storage temperature markedly affects the survival as well as the establishment of nematode IJs of the three EPN species. At 5 °C, comparatively higher rate of IJ's survival (i.e. 74–86 %) was observed for 15 days of storage, but the same reduced drastically to 28–32 % after 30 days of storage for
H. indica
and
S. thermophilum
. On the other hand, at 25 °C, the survival of nematode IJs was observed till 120 days for all the three studied EPNs. In case of
S. thermophilum
and
S. glaseri
, higher rate of IJs survival (>75 %) was observed respectively at 15 and 30 days of observation. The study also showed that the establishment of IJs of the three EPN species declines with increase in storage periods, at both the test temperatures. In general, the nematodes stored at 25 °C showed comparatively better establishment than those stored at 5 °C. Among the three EPN studied, the establishment of
S. glaseri
was comparatively better than the rest of the species at both the temperatures and for different storage durations. In conclusion, our study adds further valuable information about the effect of storage temperature on survival and infectivity of three indigenous EPN species of Meghalaya, India which appears to be promising biocontrol agents of local insect pests.