01.12.2015 | Research article | Ausgabe 1/2015 Open Access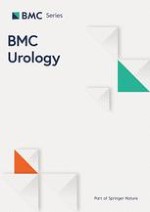 Effects of tadalafil treatment after bilateral nerve-sparing radical prostatectomy: quality of life, psychosocial outcomes, and treatment satisfaction results from a randomized, placebo-controlled phase IV study
Zeitschrift:
Autoren:

Hitendra R Patel, Dapo Ilo, Nimish Shah, Béatrice Cuzin, David Chadwick, Robert Andrianne, Carsten Henneges, Jane Barry, Katja Hell-Momeni, Julia Branicka, Hartwig Büttner
Wichtige Hinweise
Electronic supplementary material
The online version of this article (doi:
10.​1186/​s12894-015-0022-9
) contains supplementary material, which is available to authorized users.
Competing interests
HRP has received speaker honoraria, as well as honoraria and travel expenses for coloplast educational programs from Eli Lilly. HB, CH, JBA, KHM, JBR and DI are employees of Eli Lilly and Company; HB, KHM and DI also own Lilly stock. NS, BC, DC, and RA have no conflicts of interest to disclose.
Authors' contributions
HB and CH contributed to drafting the manuscript, HB was also involved in the design of the study. HP, NS, BC, DC, and RA were study investigators, JBR was responsible for clinical trial management. CH was responsible for the statistical analysis. HRP, NS, BC, DC, RA, JBA, KHM, and DI revised the draft manuscript critically. All authors read and approved the final manuscript.
Abstract
Background
This multicenter, randomized, double-blind, double-dummy, placebo-controlled trial primarily evaluated the efficacy of tadalafil once-daily (OaD) or on-demand ("pro-re-nata"; PRN) treatment, started early post-nsRP. Secondary outcome-measures on quality-of-life (QoL) and treatment satisfaction are reported.
Methods
Patients, aged <68 yrs, with adenocarcinoma of the prostate (Gleason ≤ 7, normal preoperative erectile function [EF]) were randomized post-nsRP 1:1:1 to 9-month treatment with tadalafil 5 mg OaD, tadalafil 20 mg PRN, or placebo, followed by 6-week drug-free washout and 3-month open-label tadalafil OaD treatment (OLT). The main outcome measures were Changes in Expanded Prostate Cancer Index Composite (EPIC-26), Erectile Dysfunction Inventory of Treatment Satisfaction (EDITS), and Self-Esteem and Relationship (SEAR) questionnaires (mixed-model-for-repeated-measures, including terms for treatment, visit, treatment-by-visit interaction, age-group, country, baseline-score). LS means with 95% confidence interval (CI) are reported.
Results
423 patients were randomized to 3 treatment-groups: tadalafil OaD (N = 139), PRN (N = 143), or placebo (N = 141). In each group, 57 (41.0%), 58 (40.6%), and 50 (35.5%) patients were aged 61-68 yrs. At the end of double-blind treatment (DBT), patients' EPIC sexual domain-scores improved significantly with tadalafil OaD versus placebo (treatment effect [95% CI]: 9.6 [3.1,16.0]; p = 0.004); comparisons of PRN versus placebo at end of DBT, and comparisons of tadalafil OaD and PRN versus placebo after OLT were not significant. Only in older patients (61-68 yrs; age-by-treatment p ≤ 0.1), EPIC urinary incontinence domain-scores also improved significantly with tadalafil OaD versus placebo (overall treatment effect across all visits, 8.3 [0.4,16.1]; p = 0.040). Treatment satisfaction increased significantly in both tadalafil groups, EDITS total-scores increased significantly with OaD and PRN versus placebo during DBT (p = 0.005 and p = 0.041, respectively). At the end of OLT, improvement was significant for tadalafil OaD versus placebo only (p = 0.035). No significant differences were observed for SEAR.
Conclusions
These results suggest that chronic dosing of tadalafil improves QoL of patients post-nsRP. The improvement of urinary incontinence in elderly patients randomized to tadalafil OaD may contribute to this effect.
Trial registration