10.11.2018 | Original Research | Ausgabe 12/2018 Open Access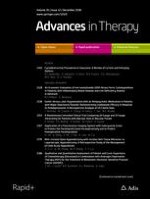 Effects of Tiotropium Combined with Theophylline on Stable COPD Patients of Group B, D and its Impact on Small Airway Function: A Randomized Controlled Trial
Zeitschrift:
Autoren:

Xiao-feng Xiong, Li-li Fan, Hong-xia Wu, Min Zhu, De-yun Cheng
Wichtige Hinweise
Electronic supplementary material
Enhanced digital features
Abstract
Introduction
Tiotropium bromide has been widely used in clinical practice, while theophylline is another treatment option for chronic obstructive pulmonary disease (COPD). However, only a few relevant studies have investigated the long-term outcomes and efficacy of both in patients with COPD. We evaluated the effects of tiotropium and low-dose theophylline on stable COPD patients of groups B and D.
Methods
Eligible participants (
n
 = 170) were randomized and received either tiotropium 18 µg once daily with theophylline 100 mg twice daily (Group I) or tiotropium 18 µg once daily (Group II) for 6 months. COPD assessment test (CAT), modified Medical Research Council (mMRC) dyspnea scores and pulmonary function tests were measured before randomization and during the treatment.
Results
After 6 months of treatment, the CAT scores in both groups decreased significantly (11.41 ± 3.56 and 11.08 ± 3.05,
p
 < 0.0001). The changes of CAT (
p
 = 0.028) and mMRC scores (
p
 = 0.049) between the two groups differed after 1 month of treatment. In Group I, forced expiratory flow after 25% of the FVC% predicted (MEF
25
% pred) was significantly improved after 3 months (4.84 ± 8.73%,
p
 < 0.0001) and 6 months (6.21 ± 8.65%,
p
 < 0.0001). There was a significant difference in small airway function tests (MEF
50
% pred, MEF
25
% pred, and MMEF% pred) between the two groups after 6 month of treatment (
p
 = 0.003,
p
 < 0.0001, and
p
 = 0.021, respectively).
Conclusions
Tiotropium combined with low-dose theophylline significantly improved the symptoms and general health of patients with stable COPD of groups B and D after 6 months of follow-up. Additionally, this therapy also improved the indicators of small airway function.
Trial Registration
Chinese Clinical Trial Registry (Registry ID: ChiCTR1800019027).