01.12.2015 | Research article | Ausgabe 1/2015 Open Access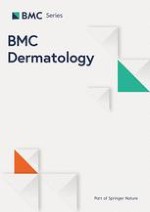 Effects of tofacitinib on lymphocyte sub-populations, CMV and EBV viral load in patients with plaque psoriasis
Zeitschrift:
Autoren:

Fernando Valenzuela, Kim A Papp, David Pariser, Stephen K Tyring, Robert Wolk, Marjorie Buonanno, Jeff Wang, Huaming Tan, Hernan Valdez
Wichtige Hinweise
Competing interests
Fernando Valenzuela has been a principal investigator, member of a scientific advisory board or speaker for AbbVie, Eli Lilly, Janssen, Merck, Novartis, and Pfizer Inc. Kim A Papp has been a principal investigator, an advisor or consultant, a Scientific Officer, member of a Scientific Advisory Board and a speaker for Abbott, Amgen, Astellas, Celgene, Centocor-Ortho Biotech, Incyte, Isotechnika, Janssen, Lilly, Medimmune, Merck, Novartis, and Pfizer Inc. David Pariser has been a principal investigator, advisor or consultant for Abbott/AbbVie, Amgen, Astellas, Celgene, Eli Lilly, Janssen-Ortho, Novartis, Pfizer Inc, and Valeant. Stephen K Tyring has conducted research funded by Pfizer Inc. At the time of this analysis, Jeff Wang was an employee of Quintiles, and acted as a paid consultant to Pfizer Inc in connection with the analysis of study data. Robert Wolk, Marjorie Buonanno, Huaming Tan, and Hernan Valdez are employees and stockholders of Pfizer Inc.
Authors' contributions
KAP enrolled and examined patients during the course of the study. The data analysis was planned by HV and HT, and executed by HT and JW. FV, DP, SKT, RW and MB contributed to the interpretation of data. All authors contributed to the development of the manuscript and provided critical input at all stages of development. All authors read and approved the final manuscript.
Abstract
Background
Plaque psoriasis is a debilitating skin condition that affects approximately 2% of the adult population and for which there is currently no cure. Tofacitinib is an oral Janus kinase inhibitor that is being investigated for psoriasis.
Methods
The design of this study has been reported previously (NCT00678210). Patients with moderate to severe chronic plaque psoriasis received tofacitinib (2 mg, 5 mg, or 15 mg) or placebo, twice daily, for 12 weeks. Lymphocyte sub-populations, cytomegalovirus (CMV) and Epstein-Barr virus (EBV) DNA were measured at baseline and up to Week 12.
Results
Tofacitinib was associated with modest, dose-dependent percentage increases from baseline in median B cell count at Week 4 (24–68%) and Week 12 (18–43%) and percentage reductions from baseline in median natural killer cell count at Week 4 (11–40%). The proportion of patients with detectable CMV and EBV DNA (defined as >0 copies/500 ng total DNA) increased post-baseline in tofacitinib-treated patients. However, multivariate analyses found no relationship between changes in CMV or EBV viral load and changes in lymphocyte sub-populations or tofacitinib treatment.
Conclusions
Twelve weeks of treatment with tofacitinib had no clinically significant effects on CMV or EBV viral load, suggesting that lymphocyte sub-populations critical to the response to chronic viral infections and viral reactivation were not significantly affected. Replication of these findings during long-term use of tofacitinib will allow confirmation of this observation.