01.07.2007 | ORIGINAL COMMUNICATION | Ausgabe 7/2007 Open Access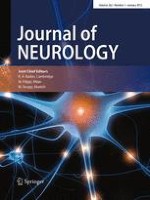 Effects of training and albuterol on pain and fatigue in facioscapulohumeral muscular dystrophy
Zeitschrift:
Autoren:

MD E. L. van der Kooi, MSc J. S. Kalkman, MD, PhD E. Lindeman, PhD J. C. M. Hendriks, MD, PhD B. G. M. van Engelen, PhD G. Bleijenberg, MD, PhD G. W. Padberg
Introduction
A strength training program could potentially induce muscle soreness caused by exercise-induced muscle damage or pain as a result of increased strain on the tendoskeletal apparatus. The imposed extra physical activity could lead to an increase in experienced fatigue caused by a physical overload, as well as a decrease caused by a better physical condition.
Methods
Sixty-five genetically confirmed, adult FSHD patients were randomised to strength training of elbow flexors and ankle dorsiflexors or non-training. After 26 weeks, albuterol (sustained-release, 8 mg bid) was added in a double-blind, placebo-controlled design. Treatment was continued for another 26 weeks. For the effect of training the primary outcome measure was the maximum voluntary isometric strength (MVIC) of the elbow flexors and ankle dorsiflexors. Main secondary outcomes were muscle endurance and dynamic muscle strength of elbow flexors and ankle dorsiflexors. To evaluate the effect of albuterol the MVIC of eight large muscle groups, including elbow flexors and ankle dorsiflexors, was used as primary outcome measure. Main secondary outcome measures were muscle endurance and the total body skeletal muscle volume estimated by stereological CT method. For an extensive description of the subjects and interventions, the study design (see also Fig.
1
), the test methods of the primary and main secondary outcomes, we refer to our previous publication [
35
]. The local ethics committee approved the study, and written informed consent was obtained from all subjects.
×
Outcome measures
The outcome measures concerning self-reported pain, experienced fatigue, health-related functional status and psychological distress were obtained with widely used, validated and reliable questionnaires and a self-observation list; all described hereafter. The questionnaires were sent to the participants' home three weeks before the baseline (week 0) and final visit (52 weeks), and handed in during these visits. The person who extracted the data from the questionnaires and made them suitable for statistical analysis was blinded for the assignment to both interventions.
Pain
The McGill Pain Questionnaire (MPQ) was used for the assessment of different aspects of pain [
27
]. The MPQ is widely used, well validated and reliable [
33
,
34
]. The main outcome measure for pain was the magnitude of pain at that moment marked on a visual analogue scale (VAS); a VAS score of 0 mm indicating no pain, and 100 mm unbearable pain. In the MPQ patients were also asked to mark in the list of pain descriptors those adjectives that applied best to their pain. Finally, the MPQ included a whole body outline to indicate the distribution of the pain, and an inventory of the use of analgesics. In addition, the participants rated the intensity of their pain on a daily self-observation list during a two-week period. Pain severity was rated four times a day on a scale of 0 (no pain) to 4 (severe pain). The daily pain score could range from 0 to 16, and the 14 daily pain scores were averaged into one Daily Observed Pain score (DOP) [
31
].
Experienced fatigue
The main outcome measure for experienced fatigue was the score on the fatigue severity subscale of the Checklist Individual Strength (CIS) [
37
]. In this questionnaire, the patient is asked to score the following four aspects of fatigue during the previous two weeks: fatigue severity (8 items), concentration problems (5 items), reduced motivation (4 items) and reduced activity (3 items). Each item is scored on a 7-point Likert scale. Higher scores indicate higher levels of fatigue, more concentration problems, low motivation and lower levels of activity. A CIS-fatigue subscale score equal to or higher than 35 identifies abnormal or severe fatigue [
38
]. The CIS questionnaire has good reliability and validity, including discriminative validity [
13
,
37
,
38
]. Experienced fatigue and self-reported activity levels were also measured with the daily self-observation list. Similar to the Daily Observed Pain score (DOP), a Daily Observed Fatigue score (DOF) and a Daily Observed Activity score (DOA) were calculated. A higher DOF score indicates more experienced fatigue, and a higher DOA score more self-reported activity [
31
].
Functional status
Health-related functional status was assessed using the original Sickness Impact Profile (SIP) [
8
,
17
]. Reliability and validity of the SIP have been evaluated extensively [
8
,
17
]. A total score of general disability (SIP-total) was calculated by adding the weights of items in the 12 categories or subscales: sleep/rest, emotional behaviour, body care/movement, household management, mobility, social interactions, ambulation, alertness behaviour, communication, work limitations, recreation/pastimes, and eating. The total SIP score ranges from 0 to 10,298. A higher score means more disability.
Psychological distress
The Symptom Checklist-90 (SCL) was used to measure psychological distress [
5
]. This scale is widely used, and the reliability and validity, including discriminative validity are good [
5
]. The scale consists of 90 items scored on a 5-point Likert scale, and rates symptoms as anxiety, depression, sleeping problems and somatisation. The total score ranges from 90 to 450. A low total score reflects good psychological well-being, and higher scores indicate more distress. The Beck Depression Inventory — Primary Care (BDI-PC) was used as an additional outcome [
7
]. The BDI-PC was developed specifically for evaluating depression in medical patients by reflecting only the cognitive and affective symptoms of depression, while excluding somatic and performance items that might be related to medical problems (e.g. tiredness or fatigue, worries about physical problems). The BDI-PC is a 7-item questionnaire measuring depression on a 4-point scale ranging from 0 to 3 points per item. A score of 4 or more indicates a depression.
Statistics
To describe the study population at baseline the following methods or measures were used: (a) two-sided
t
-tests to test for statistically significant differences (α = 0.05) between subgroups, in case of continuous variables; (b) χ
2
test for nominal variables (α = 0.05); and (
c
) Pearson coefficient (
r
) for correlations. To retain power with these relatively small sample sizes, and because of the explorative nature of this descriptive part of the study, no adjustments were made for the multiple comparisons (at baseline).
The efficacy analyses were performed on an intention-to-treat basis, such that all randomised subjects were included in the analyses. A general linear mixed model was used to study possible differences between the four groups on the outcome measures, separately. The fixed independent variables were the study "visit" (0, 52 weeks), "training" (yes, no), "albuterol" (yes, no), "gender" (male, female), and "severity" (≥3, 2 trainable muscle groups). Per patient a random intercept was allowed. To detect differences between visits related to any of these variables all first order interaction terms between these variables and "visit" were included. Higher order interaction terms, except one second order term ("training" * "albuterol" * "visit") were excluded from the model, as they appeared to be not statistically significant (at the level of α = 0.05). The estimated means and effect sizes (difference in mean change from baseline analysed by intervention over all treatment groups) with 95% confidence intervals are presented. Tukey-Kramer adjustments for multiple comparisons were performed.
Results
Subjects & design
The diagram in Fig.
1
shows the flow of patients through each stage of the study. Sixty-five patients were admitted to the study and randomised. The 25 females and 40 males had a mean age of 40 ± 11 and 37 ± 10 years, respectively. One patient stopped training, and four patients stopped using their study medication because of side effects [
35
]. All the participants completed their visits. Each patient had to complete six questionnaires for the baseline visit (week 0) and for the final visit (week 52). Only 10 of the 780 questionnaires were not handed in: five at baseline, and five at 52 weeks. The demographic and baseline characteristics of the patients are presented in Table
1
.
Table 1
Baseline characteristics for the total study group, the pain subgroups and the fatigue subgroups
| | | | | p-value* | | | p-value* |
| --- | --- | --- | --- | --- | --- | --- | --- |
| Patient charac teristics | | | | | | | |
| Female, % | 40 | 23 | 42 | 0.20 | 35 | 45 | 0.42 |
| Age, years | 38±10 | 37±12 | 38±10 | 0.66 | 38±11 | 38±10 | 0.79 |
| Pain | | | | | | | |
| VAS, mm | 12.9±17.1 | 0±0 | 16.1±17.7 | 0.0018 | 9.0±14.0 | 20.6±20.0 | 0.008 |
| DOP | 2.4±2.2 | 0.4±0.7 | 3.0±2.2 | <0.001 | 2.0±2.0 | 3.4±2.6 | 0.013 |
| Experienced fatigue | | | | | | | |
| CIS—Fatigue | 28.8±12.1 | 23.6±9.7 | 30.1±12.4 | 0.09 | – | – | – |
| CIS—Fatigue ≥35, % | 34 | 15 | 38 | 0.16 | – | – | – |
| DOF | 3.4±2.3 | 2.5±1.3 | 3.7±2.3 | 0.07 | 2.7±1.7 | 5.1±2.1 | <0.001 |
| DOA | 6.1±2.0 | 5.7±1.5 | 6.3±2.1 | 0.3 | 6.3±2.3 | 5.8±1.4 | 0.33 |
| Functional status | | | | | | | |
| SIP—Total | 708±612 | 585±537 | 739±630 | 0.42 | 525±526 | 1,091±594 | <0.001 |
| Psychological distress | | | | | | | |
| SCL—Total | 117±29 | 117±37 | 115±24 | 0.89 | 108±15 | 131±37 | <0.001 |
| BDI-PC | 1.7±3.0 | 2.1±4.8 | 1.6±2.5 | 0.63 | 0.9±1.7 | 3.3±4.3 | 0.0018 |
| BDI-PC ≥4, % | 16 | 8 | 18 | 0.39 | 7 | 33 | 0.008 |
Baseline characteristics
Interventions
Discussion
Eighty percent of the participating FSHD patients reported chronic persistent or periodic pain with a low to moderate intensity, mostly characterized as sore, stabbing, stiff and taut. Pains were most frequently present around the shoulders, neck, lower back and lower legs. There was no relationship between the presence of pain and gender or age. However, if pain was present the reported intensity tended to be slightly higher for female and older patients. Patients with pain appeared to be more fatigued. The outcomes for functional status and psychological distress did not significantly differ between those with and without pain.
Thirty-four percent of the patients were considered to be severely fatigued. There was no relationship between both the presence and the severity of fatigue, and gender or age. Severely fatigued patients had significantly more pain, more disability, more psychological distress, and more depressive feelings. However, our data also indicated relatively moderate sickness-related dysfunction and no indications of abnormal psychological distress in the total group of patients studied.
The two interventions, moderate-intensive strength training and albuterol, did not appear to have a clear positive or negative effect on pain, experienced fatigue, functional status or psychological distress.
The presence of pain did not seem to have an important influence on disability and psychological distress; as opposed to the presence of severe experienced fatigue, which was clearly associated with more disability, more psychological distress and more depressive feelings. The proportion of patients with a possible depression was significantly higher in the severely fatigued subgroup as compared to the other patients. Severe fatigue could not be seen as merely a sign of depression, as 66% of the severely fatigued patients had normal scores on the depression inventory. However, it appears likely that in the state of depression fatigue related to FSHD is experienced as more severe. So, one should consider a depression in FSHD patients with excessive fatigue.
However, in this trial no signs of overuse, such as a decline in strength measures or training-related increase in pain or fatigue, were seen. This is of major clinical importance, because these findings do not support the hypothesis of extra risk for muscle strain in FSHD. Still, an extra liability for overwork weakness in more severely affected FSHD patients is not excluded. Based on our experience we tell our FSHD patients that 'normal' participation in sports and work appears not to harm their muscles but there is insufficient evidence to establish that it offers benefit. And, that there is insufficient evidence for general prescription of exercise programmes in FSHD.
Pain and fatigue are indeed frequent and clinically relevant symptoms in FSHD. More work is necessary to understand their pathophysiology, to study their relation with disease severity and functional disability, and to explore possible treatment strategies. Now that concise strength training of a few muscle groups has proven safe, a study on the effect of more comprehensive training programs designed to target goals more meaningful to these patients seems rational. And, although albuterol (SR capsules, 8 mg twice daily) did not have any effect on fatigue, functional status, and psychological distress, the limited positive effect on muscle strength and volume, and the good tolerability are sufficient ground for studies exploring alternative dosing regimens, and combinations with other ergogenic medication.
Acknowledgement
The study was supported by a government grant of the Health Research and Development Council of the Netherlands (ZON-MW), the Prinses Beatrix Fonds, the Dutch Public Fund for Neuromuscular Disorders (VSN), and the Dutch FSHD Foundation. The authors thank Ria te Winkel-Slotboom for data management and advice. The authors also thank Hexal AG, Holzkirchen, Germany, for generously providing the study medication.