28.11.2016 | Original Article | Ausgabe 2/2017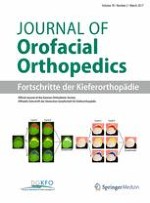 Effects of two different removable functional appliances on depth of the posterior airway space
A retrospective cephalometric study
Autoren:

Jan Hourfar, Gero Stefan Michael Kinzinger, Luisa Katharina Meißner, Jörg Alexander Lisson
Wichtige Hinweise
Prof. Dr. Jörg A. Lisson.
Abstract
Objectives
Aim of the study was the comparison of treatment effects upon pharyngeal depth in patients treated with either (1) S-II-appliance or (2) Activator.
Methods
Pre- and posttreatment lateral cephalograms of 73 patients were analyzed using a customized set of measurements. According to predefined criteria, patients were either treated with S-II-appliance or Activator. Pharyngeal depth was assessed from cranial to caudal at six levels (P1 to P6). Paired
t
tests were used for intragroup and
t
tests for independent samples for intergroup comparisons. Results were considered statistically significant at
p
≤ 0.05.
Results
37 (22 female, 15 male) patients were treated with the S-II-appliance (mean pretreatment age 11.1 ± 1.07 years), and 36 (20 female, 16 male) patients with an Activator (mean pretreatment age 11.3 ± 1.12 years). Mean treatment time was 14 months for the S-II-appliance and 12 months for the Activator. Most measurements at the different levels showed an average increase ranging from approximately 0.5 mm to almost 2 mm. Changes were more pronounced in S-II patients. In contrast to intergroup comparisons, some intragroup comparisons revealed statistically significant differences at levels P5 (
p
= 0.0062) and P6 (
p
= 0.0155) in S-II patients and at P1-level (
p
= 0.0197) in Activator patients.
Conclusions
Both appliances similarly led to an increase of the pharyngeal depth. The sites of statistically significant changes differed.