19.03.2020 | Original Article | Ausgabe 3/2020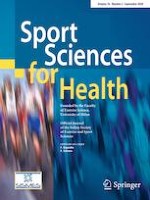 Effects of vibratory platform training on the histomorphometric parameters of the soleus muscle in obese Wistar rats
Zeitschrift:
Autoren:

Mariana Laís Boaretto, Bárbara Zanardini de Andrade, Jhyslayne Ignácia Hoff Nunes Maciel, Iranilda Moha, Sara Cristina Sagae Schneider, Márcia Miranda Torrejais, Lucinéia de Fátima Chasko Ribeiro, Gladson Ricardo Flor Bertolini
Wichtige Hinweise
Publisher's Note
Springer Nature remains neutral with regard to jurisdictional claims in published maps and institutional affiliations.
Abstract
Background
The increasing of obesity is one of the main challenges of public health, with an incentive to the development of healthy life habits and practise of physical exercise. Among the physical exercises, the use of whole body vibration is highlighted, which can promote gain of muscle strength.
Aims
This study aimed atevaluating the effects that vibratory platform causes on the histomophometry and fiber types of the soleus muscle of Wistar rats with induced obesity by monosodium glutamate (MSG).
Methods
Thirty-two male Wistar rats were used, 16 of which were induced by obesity with intradermal injections of MSG, equally randomized into four groups: control (GC), control with intervention (GCP), obese (GO), and obese with intervention (GOP). At the 70 days, the training on vibratory platform was started adapted to a frequency of 60 Hz and amplitude of 2 mm, performed 3 times a week, with a duration of 10 min, during 8 consecutive weeks. At 130 days, the animals were weighed and the nasoanal length was measured; then they were euthanized and the soleus muscles were collected and processed for analysis. Data were statistically analyzed about the homogeneity of variances by the
Bartlett's
test, about the normality by
Shapiro–Wilk's
test, then ANOVA of two factors and
Tukey-HSD
follow-up tests, adopting the significance level of 5%.
Results
Morphometrically, the obese groups presented muscle hypotrophy (
p
 < 0.01) and the training caused increase in the fibers (
p
 = 0.03), increase in the number of nuclei (
p
 < 0.01), and decrease of connective tissue (
p
 < 0.01). Meanwhile, there was no distinction among the muscle fiber types after the training on the vibratory platform, which is composed of oxidative fibers.
Conclusion
The training on the vibratory platform induced beneficial effects in the muscle tissue of obese rats; however, both obesity and training did not influence on the fiber type of the soleus muscle.