01.12.2017 | Research article | Ausgabe 1/2017 Open Access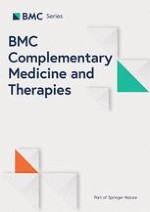 Effects of
Vitellaria paradoxa

(C.F. Gaertn.) aqueous leaf extract administration on

Salmonella typhimurium-

infected rats
Zeitschrift:
Autoren:

Siméon Pierre Chegaing Fodouop, Sedric Donald Tala, Lunga Paul Keilah, Norbert Kodjio, Mefokou Didiane Yemele, Armel Herve kamdje Nwabo, Bridget Nji-kah, Joseph Tchoumboue, Donatien Gatsing
Abstract
Background
The present study investigates the effects of
Vitellaria paradoxa
crude extract administration on
Salmonella typhimurium
infected Wistar rats.
Methods
Rats were infected by single dose oral administration of
Salmonella typhimurium
(1.5×10
8
CFU). Negative control groups were infected and treated orally with distilled water (vehicle), neutral control group were not infected, while the four test groups were treated up to 18 days with 55 mg/kg, 110 mg/kg, 220 mg/kg and 440 mg/kg body weight of aqueous extract of
V. paradoxa
respectively. The effects of this extract administration on serum markers (total protein, creatinine, transaminases, bilirubin and lipid profile) as well as acute toxicity test and phytochemical screening were also investigated.
Results
Following in vivo studies, aqueous extract of
V. paradoxa
allowed to clear salmonellosis in previously infected rats within twelve days of treatment. Infection has resulted in a significant increase of transaminases activity. Besides, significant decrease was observed in liver and kidney relative weight and their protein content. Nevertheless, administration of this plant extract at higher doses has resulted in the correction of some of these injuries. Results obtained from acute toxicity study showed that mice administered with the aqueous leaf extract exhibited a mild reaction to noise and pinch; excreted watery discharges and the LD
50
value was 12.0 g/kg. In addition, the extract showed no toxic effect after 14 days. However, it may have a sedative effect or depressant effect on the central nervous system, may induce a decrease in plasma levels of algogenic substances, and may cause diarrhea at high doses. Phytochemical screening of the extract revealed the presence of flavonoids, alkaloids, tannins, phenols and polyphenols, saponins, anthocyanins, steroids and anthraquinones.
Conclusions
These results support the ethnomedicinal use of
V. paradoxa,
and suggest that its leave can be used in the management antibacterial phytomedicine.