01.12.2015 | Research article | Ausgabe 1/2015 Open Access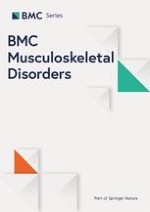 Effects over time of two platelet gel supernatants on growth factor, cytokine and hyaluronan concentrations in normal synovial membrane explants challenged with lipopolysaccharide
Zeitschrift:
Autoren:

Diana L. Ríos, Catalina López, María E. Álvarez, Ismael J. Samudio, Jorge U. Carmona
Wichtige Hinweise
Competing interests
The authors declare that they have no competing interests.
Authors' contributions
This article represents part of the PhD thesis of DLR submitted to the Biomedical Sciences Doctoral Program at the Universidad de Caldas, Manizales, Colombia. JUC had full access to all of the data in the study and takes responsibility for the decision to submit this work for publication. JUC and IJS designed the study and participated in data analysis and interpretation, manuscript drafting and critical revision. CL, DLR and MEA performed laboratory work and contributed to data collection, data analysis and interpretation as well as to the critical revision of the manuscript. All of authors read and approved the final version of the manuscript to be published.
Abstract
Background
Platelet-rich plasma (PRP) preparations are a common treatment in osteoarthritis (OA) and inflammatory synovitis. However, there is ambiguity regarding the ideal concentration of leukocytes and platelets in these preparations necessary to induce an adequate anti-inflammatory and anabolic response in joint tissues, such as the synovial membrane. This research aimed to study, in normal synovial membrane explants (SME) challenged with lipopolysaccharide (LPS), the temporal effects (at 48 and 96h) of leukocyte- and platelet-rich gel (L-PRG) and pure platelet-rich gel (P-PRG) supernatants on the production and degradation of platelet associated growth factors (GF) (platelet derived GF isoform BB (PDGF-BB) and transforming growth factor beta-1 (TGF-β1)), pro-inflammatory (tumour necrosis factor alpha (TNF-α)) and anti-inflammatory cytokines (interleukin 4 (IL-4) and IL-1 receptor antagonists (IL-1ra)) and hyaluronan (HA).
Methods
Synovial membrane explants (SMEs) from 6 horses were challenged with LPS and cultured for 96h with L-PRG and P-PRG supernatants at concentrations of 25 and 50 %, respectively. The SME culture medium was changed every 48h and used for determination by ELISA of PDGF-BB, TGF-β1, TNF-α, IL-4, IL-1ra and HA. These molecules were also determined in synovial fluid from the horses.
Results
Both the 25 and 50 % PRG supernatants produced a molecular profile in the culture media unlike that of the SME challenged with LPS only. They presented GF, cytokine and HA concentrations very near to the concentrations of these molecules in normal synovial fluid when compared with the SME control groups (either with LPS or without LPS). However, in comparison with the rest of the SME treated groups, the 25 % L-PRG produced the most IL-1ra, and the 50 % P-PRG induced the sustained production of IL-4 and HA.
Conclusions
These
in vitro
findings suggest that anabolic and anti-inflammatory joint responses depend on the leukocyte and platelet concentration of the PRP preparation and on the volume of this substance injected. Moreover, it is possible, that leukoreduced PRP preparations are more effective for the medical treatment of patients with OA and inflammatory synovitis.