01.11.2010 | Original article | Ausgabe 1/2010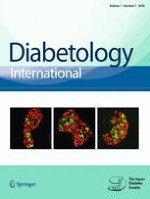 Efficacy and adverse effects of low-dose nateglinide in early type 2 diabetes: comparison with acarbose in a crossover study
Zeitschrift:
Autoren:

Toyoyoshi Uchida, Junko Kawai, Yoshio Fujitani, Ryuzo Kawamori, Hirotaka Watada, Takahisa Hirose
Abstract
Recent studies have suggested that treatment of type 2 diabetes soon after diagnosis of diabetes correlates with a long-term reduction in the risk of macroangiopathy. An open-label prospective crossover trial was performed to compare the efficacy and adverse effects of low-dose nateglinide with those of acarbose. The subjects were 23 early type 2 Japanese diabetic patients who were oral hypoglycemic agent naïve and whose HbA
1C
levels were 6.0–6.9%. Twelve patients received 90 mg/day of nateglinide and 11 patients received 150 mg/day of acarbose. After 12 weeks of either therapy, the drugs were switched and treatment was continued for another 12 weeks. Each patient was requested to complete a questionnaire on complications after the completion of each treatment. HbA
1C
decreased from a mean baseline of 6.7 ± 0.2 to 6.4 ± 0.3% with nateglinide and to 6.5 ± 0.3% with acarbose. Decreases of HbA
1C
in nateglinide were larger than those in acarbose, albeit statistically insignificant (
p
= 0.073). Symptoms related to hypoglycemia were scarcely observed with either treatment. Abdominal fullness/borborygmi were frequently reported by patients on acarbose but were absent or mild in those on nateglinide. After the completion of the study, most patients favored nateglinide over acarbose. Our results suggest that the effects of low-dose nateglinide on postprandial hyperglycemia of early type 2 diabetes are equivalent to those of acarbose, with the added advantage of minimal side effects.