01.12.2018 | Research | Ausgabe 1/2018 Open Access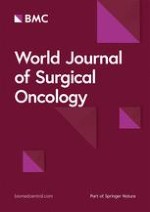 Efficacy and mechanism of steep pulse irreversible electroporation technology on xenograft model of nude mice: a preclinical study
Zeitschrift:
Autoren:

Zuoqing Song, Xiaohong Xu, Minghui Liu, Jinghao Liu, Jun Chen, Chengxiang Li, Chenguo Yao, Qinghua Zhou
Abstract
Background
Steep pulse therapy can irreversible electrically brackdown of tumor membrance and cause cell death. In previous studies, we investigated the effect of steep pulsed electroporation on the killing of large cell lung cancer cell line L981- in vitro, and determined the best parameters for killing lung cancer cells by steep pulse technology. But the optimal parameters and the mechanisms of steep pulse irreversible electroporation technology on nude mouse tumor model are unclear.
Methods
Three settings of steep pulse therapy parameters were applied to the nude mouse model. An in vivo imaging system was employed to observe the effect of different parameters on the mouse model. The pathological changes of the tumor tissue and immunofluorescence data on Caspase-3 protein expression were recorded.
Results
Under the in vivo imaging system, the steep pulse had an obvious inhibitory effect on the transplanted tumor in the nude mouse model. Pathological tests showed that occurrence of necrosis and apoptosis and expression of Caspase-3 protein in the tumor tissue were increased compared to those in the normal tissue.
Conclusions
Steep pulse irreversible electroporation technology showed a promising antitumor effect in the nude mouse tumor model. With splint-type electrode, the best treatment parameters determined for the nude mouse tumor model were voltage amplitude 2000 V/cm, pulse width 100 μs, pulse frequency 1 Hz, pulse number 60, and repeat time 3. Moreover, steep pulse induced coagulative necrosis of tumor tissue by cell apoptosis.