01.12.2014 | Study protocol | Ausgabe 1/2014 Open Access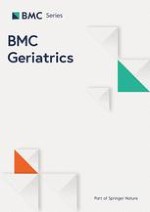 Efficacy and safety of haloperidol prophylaxis for delirium prevention in older medical and surgical at-risk patients acutely admitted to hospital through the emergency department: study protocol of a multicenter, randomised, double-blind, placebo-controlled clinical trial
Zeitschrift:
Autoren:

Edmée JM Schrijver, Oscar J de Vries, Astrid Verburg, Karola de Graaf, Pierre M Bet, Peter M van de Ven, Ad M Kamper, Sabine HA Diepeveen, Sander Anten, Andrea Siegel, Esther Kuipéri, Anne M Lagaay, Rob J van Marum, Astrid M van Strien, Leo Boelaarts, Douwe Pons, Mark HH Kramer, Prabath WB Nanayakkara
Wichtige Hinweise
Electronic supplementary material
The online version of this article (doi:
10.​1186/​1471-2318-14-96
) contains supplementary material, which is available to authorized users.
Competing interests
The authors declare that they have no competing interests.
Authors' contributions
EJMS, OJV, PMB, and PWN conceived of the study and drafted the study protocol. EJMS, OJV, AV, KG, PMB, AMK, SHAD, SA, AS, EK, AML, RJM, AMS, LB, DP, MHHK, and PWBN participate in the design and coordination of the study. EJMS, AV, and KG support the data collection. PWBN has overall responsibility for the trial. EJMS, OJV, PMV, and PWBN performed the statistical analysis for the study protocol and the manuscript, and will primarily be responsible for interpretation of the study results and primary data analysis. EJMS drafted and revised the manuscript. OJV, PMV, PWBN critically revised the manuscript for important intellectual content. All authors have read and approved the final manuscript.
Abstract
Background
Delirium is associated with substantial morbidity and mortality rates in elderly hospitalised patients, and a growing problem due to increase in life expectancy. Implementation of standardised non-pharmacological delirium prevention strategies is challenging and adherence remains low. Pharmacological delirium prevention with haloperidol, currently the drug of choice for delirium, seems promising. However, the generalisability of randomised controlled trial results is questionable since studies have only been performed in selected postoperative hip-surgery and intensive care unit patient populations. We therefore present the design of the multicenter, randomised, double-blind, placebo-controlled clinical trial on early pharmacological intervention to prevent delirium: haloperidol prophylaxis in older emergency department patients (The HARPOON study).
Methods/Design
In six Dutch hospitals, at-risk patients aged 70 years or older acutely admitted through the emergency department for general medicine and surgical specialties are randomised (n = 390) for treatment with prophylactic haloperidol 1 mg or placebo twice daily for a maximum of seven consecutive days. Primary outcome measure is the incidence of in-hospital delirium within seven days of start of the study intervention, diagnosed with the Confusion Assessment Method, and the Diagnostic and Statistical Manual of Mental Disorders, fourth edition criteria for delirium. Secondary outcome measures include delirium severity and duration assessed with the Delirium Rating Scale Revised 98; number of delirium-free days; adverse events; hospital length-of-stay; all-cause mortality; new institutionalisation; (Instrumental) Activities of Daily Living assessed with the Katz Index of ADL, and Lawton IADL scale; cognitive function assessed with the Six-item Cognitive Impairment Test, and the Dutch short form Informant Questionnaire on Cognitive Decline in the Elderly. Patients will be contacted by telephone three and six months post-discharge to collect data on cognitive- and physical function, home residency, all-cause hospital admissions, and all-cause mortality.
Discussion
The HARPOON study will provide relevant information on the efficacy and safety of prophylactic haloperidol treatment for in-hospital delirium and its effects on relevant clinical outcomes in elderly at-risk medical and surgical patients.
Trial registration
EudraCT Number: 201100476215; ClinicalTrials.gov Identifier:
NCT01530308
; Dutch Clinical Trial Registry:
NTR3207