01.06.2015 | Original Article | Ausgabe 2/2015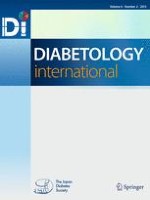 Efficacy and safety of ipragliflozin as an add-on to pioglitazone in Japanese patients with inadequately controlled type 2 diabetes: a randomized, double-blind, placebo-controlled study (the SPOTLIGHT study)
Zeitschrift:
Autoren:

Atsunori Kashiwagi, Takanori Shiga, Noriko Akiyama, Kenichi Kazuta, Atsushi Utsuno, Satoshi Yoshida, Eiji Ueyama
Wichtige Hinweise
Results of this study were presented as a poster at the 48th Annual Meeting of the European Association for the Study of Diabetes (EASD), Berlin, Germany (October 1–5, 2012).
ClinicalTrials.gov identifier: NCT01225081.
Abstract
Ipragliflozin is a novel oral sodium–glucose cotransporter 2 (SGLT2) inhibitor under development for the treatment of type 2 diabetes. We examined its efficacy and safety as an add-on to pioglitazone in Japanese patients with inadequately controlled diabetes. Japanese type 2 diabetes patients were randomized to 24 weeks of treatment with 50 mg ipragliflozin or placebo in a double-blind manner. At week 24, patients with hemoglobin (Hb)A1c <8.4 % were permitted to continue open-label ipragliflozin in a 28-week extension period. The primary endpoint was the change in HbA1c from baseline to week 24 (with last observation carried forward). Ninety-eight and 54 patients were randomized to ipragliflozin or placebo, respectively, and were prescribed the study drug. The mean HbA1c change from baseline to week 24 was −0.64 % and 0.22 % in the ipragliflozin and placebo groups, respectively, and the adjusted mean difference between the two groups was −0.88 % (
P
< 0.001). Changes in fasting plasma glucose (FPG) and body weight were significantly greater in the ipragliflozin group (both
P
< 0.001). Among patients who continued ipragliflozin in the extension period, reductions in HbA1c, FPG, and body weight were maintained until week 52. The incidence of treatment-emergent adverse events was not significantly different between the two groups. The most common event with a higher incidence in the ipragliflozin group than in the placebo group was pollakiuria (12/97 vs. 0/54 patients). Ipragliflozin improved glycemic control, promoted weight reduction, and had a good safety profile as an add-on to pioglitazone in Japanese type 2 diabetes patients.