09.01.2020 | Review Article | Ausgabe 4/2020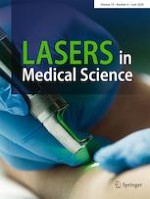 Efficacy and safety of ND:YAG 1064 nm lasers for photoepilation: a systematic review
Zeitschrift:
Autoren:

Débora Aparecida Oliveira Modena, Ana Carolina Godoy Miranda, Clovis Grecco, Richard Eloin Liebano, Raquel Cristina Tancsik Cordeiro, Renata Michelini Guidi
Wichtige Hinweise
Publisher's note
Springer Nature remains neutral with regard to jurisdictional claims in published maps and institutional affiliations.
Abstract
Using light sources in phototherapy has presented promising results regarding several types of facial and body skin affections for centuries. The neodymium-doped yttrium aluminum garnet (ND:YAG) 1064 nm laser has become a standard treatment in dermatology for dermatological disturbances related to the pilous follicle and the structures surrounding it. Despite the reports of its clinical benefits, few scientific studies show its actual safety and efficacy. To substantiate the effects, benefits, and safety of applying an ND:YAG 1064 laser in the epilation process during esthetic treatment, a systematic review was carried out between October 2018 and January 2019, on studies published in the last 20 years. Randomized clinical trials in humans were considered that evaluated the efficacy, safety, and benefits of ND:YAG laser application at 1064 nm wavelengths for hair removal. A total of 198 articles were identified; 58 articles remained after their titles and abstracts were read; and 21 articles were selected after the removal of duplicates. After the integral reading, 13 of these articles were included in the systematic review (734 patients). The ND:YAG 1064 nm laser presents safety and promising, beneficial effects in epilation. However, further scientific studies with better methodologic quality are necessary to better standardize ND:YAG laser therapy and clarify its parameters for photoepilation.