01.12.2019 | Research | Ausgabe 1/2019 Open Access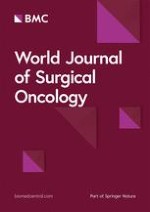 Efficacy and safety of preoperative 5-fluorouracil, cisplatin, and mitomycin C in combination with radiotherapy in patients with resectable and borderline resectable pancreatic cancer: a long-term follow-up study
Zeitschrift:
Autoren:

Yutaka Endo, Minoru Kitago, Koichi Aiura, Masahiro Shinoda, Hiroshi Yagi, Yuta Abe, Go Oshima, Shutaro Hori, Yutaka Nakano, Osamu Itano, Junichi Fukada, Yohei Masugi, Yuko Kitagawa
Wichtige Hinweise
Publisher's Note
Springer Nature remains neutral with regard to jurisdictional claims in published maps and institutional affiliations.
Abstract
Background
We aimed to evaluate the efficacy and safety of 5-fluorouracil-based neoadjuvant chemoradiotherapy (NACRT) in patients with resectable/borderline resectable pancreatic ductal adenocarcinoma (PDAC).
Methods
This retrospective study investigated the clinicopathological features and > 5-year survival of patients with T3/T4 PDAC who underwent NACRT at our institute between 2003 and 2012.
Results
Seventeen resectable and eight borderline resectable patients were included. The protocol treatment completion and resection rates were 92.0% and 68.0%, respectively. Two patients failed to complete chemotherapy owing to cholangitis or anorexia. Common grade 3 toxicities included anorexia (12%), neutropenia (4%), thrombocytopenia (4%), anemia (4%), and leukopenia (12%). Pathologically negative margins were achieved in 94.1% of patients who underwent pancreatectomy. Pathological response according to Evans' classification was grade IIA in 10 patients (58.8%), IIB in 5 patients (29.4%), and IV in 2 patients (11.8%). Postoperative pancreatic fistulas were observed in four patients (23.5%), delayed gastric emptying in one patient (5.9%), and other operative morbidities in four patients (23.5%). The 1-, 2-, 5-, and 10-year overall survival rates were 73.9%, 60.9%, 60.9%, and 39.1%, respectively (median follow-up period, 80.3 months).
Conclusions
NACRT is tolerable and beneficial for resectable/borderline resectable PDAC, even in the long-term.