28.01.2020 | Brief Report | Ausgabe 3/2020 Open Access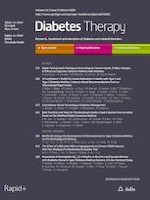 Efficacy and Safety of Treatment with New Basal Insulin Analogues in Type 1 Diabetes: Nation-Wide Survey
Zeitschrift:
Autoren:

Ann-Marie Svensson, Jan Ekelund, Mervete Miftaraj, Björn Eliasson
Wichtige Hinweise
Enhanced Digital Features
Abstract
Introduction
To date, only a few studies have addressed the long-term safety of basal insulins. We have therefore investigated the efficacy and safety of all available basal insulins used in the treatment of type 1 diabetes, using data from national databases in Sweden.
Methods
We assessed patients with type 1 diabetes who were using insulin glargine 100 U/mL (IG100) and who either continued using IG100 or switched to insulin glargine 300 U/mL (IG300) or insulin degludec (ID) for differences in clinical characteristics at baseline (index date) and subsequent changes in glycated haemoglobin (HbA1c), weight and hospitalizations caused by hypoglycaemia, cardiovascular disease or death.
Results
The mean follow-up time was 1.1 years for patients who switched to IG300 and ID and 1.6 years for those remaining on IG100. There were no marked differences in clinical characteristics between the groups, but patients on IG100 were slightly older and had used insulin pumps or continuous glucose monitors more seldom. The mean HbA1c levels were similar, and 4% of the patients had a history of cardiovascular disease. HbA1c decreased in all groups during follow-up, while the body mass index remained virtually unchanged. Rates of severe hypo- or hyperglycaemia were low and similar between the groups. Sixteen patients (0.7%) treated with IG300 and 13 patients (0.8%) treated with ID died during follow-up, while 221 patients (1.95%) on IG100 therapy died. All other severe adverse events were numerically more frequent in those patients receiving IG100, while there were no apparent differences between those receiving IG300 and those on ID.
Conclusion
The long-term effects and safety of IG300 and ID appear to be very similar in adult patients with type 1 diabetes. The results of this study suggest that these basal insulin analogues may provide benefits compared with the established reference IG100.