01.12.2012 | Research | Ausgabe 1/2012 Open Access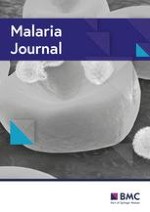 Efficacy of artemether-lumefantrine, the nationally-recommended artemisinin combination for the treatment of uncomplicated falciparum malaria, in southern Laos
Zeitschrift:
Autoren:

Mayfong Mayxay, Maniphone Khanthavong, Odai Chanthongthip, Mallika Imwong, Tiengkham Pongvongsa, Bouasy Hongvanthong, Samalane Phompida, Viengxay Vanisaveth, Nicholas J White, Paul N Newton
Wichtige Hinweise
Electronic supplementary material
The online version of this article (doi:
10.​1186/​1475-2875-11-184
) contains supplementary material, which is available to authorized users.
Competing interests
The authors declare that they have no competing interests.
Authors' contributions
MM designed the study, recruited and followed up the patients, analysed data and drafted paper. MK and OC designed the study, recruited and followed up the patients, and revised the paper. MI designed the study, performed the molecular genetic studies, and revised the paper. TP, BH, VV, SP and NJW designed the study and revised the paper. PNN designed the study, analysed data, drafted and revised the paper. All authors read and approved the final manuscript.
Abstract
Background
The Lao Government changed the national policy for uncomplicated
Plasmodium falciparum
malaria from chloroquine to artemether-lumefantrine (AL) in 2005. Since then, no information on AL efficacy has been reported. With evidence of resistance to artemisinin derivatives in adjacent Cambodia, there has been a concern as to AL efficacy. Monitoring of AL efficacy would help the Lao Government to make decisions on appropriate malaria treatment.
Methods
The efficacy of a three-day, twice daily oral artemether-lumefantrine for the treatment of uncomplicated falciparum malaria in Xepon District, Savannakhet Province, southern Laos was studied over 42 days follow-up. This was part of a trial of thiamin supplementation in falciparum malaria.
Results
Of 630 patients with
P. falciparum
enrolled in the trial of thiamin treatment, 549 (87%, 357 children ≤15 years and 192 adults) were included in this study. The per protocol 42-day cure rates were 97% (524/541) [96% (337/352) for children and 99% (187/189) for adults, p = 0.042]. By conventional intention-to-treat analysis, the 42-day cure rates adjusted for re-infection, were 97% (532/549) [96% (342/357) in children and 99% (190/192) in adults, p = 0.042]. The proportion of patients who remained parasitaemic at day 1 after treatment was significantly higher in children [33% (116/356)] compared to adults [15% (28/192)] (p < 0.001) and only one adult patient had detectable parasitaemia on day 2. There were no serious adverse events. Potential side effects after treatment were reported more commonly in adults (32%) compared to children (15%) (p < 0.001). Patients with recrudescent infections were significantly younger, had longer mean time to fever clearance, and had longer median time to parasite clearance compared to those who were cured.
Conclusions
The current nationally-recommended anti-malarial treatment (artemether-lumefantrine) remains highly efficacious for the treatment of uncomplicated falciparum malaria five years after introduction in Laos. Regular monitoring is required in case artemisinin-resistant
P. falciparum
parasites should appear.
Trial registration
ISRCTN85411059.