02.02.2019 | Original Article | Ausgabe 10/2019 Open Access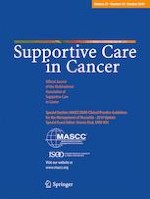 Efficacy of controlled-release oxycodone for reducing pain due to oral mucositis in nasopharyngeal carcinoma patients treated with concurrent chemoradiotherapy: a prospective clinical trial
Zeitschrift:
Autoren:

Xin Hua, Lin-Min Chen, Qian Zhu, Wen Hu, Chao Lin, Zhi-Qing Long, Wen Wen, Xiao-Qing Sun, Zi-Jian Lu, Qiu-Yan Chen, Dong-Hua Luo, Rui Sun, Hao-Yuan Mo, Lin-Quan Tang, Wen-Wen Zhang, Zhen-Yu He, Hai-Qiang Mai, Huan-Xin Lin, Ling Guo
Wichtige Hinweise
Xin Hua, Lin-Min Chen, Qian Zhu, Huan-Xin Lin and Ling Guo contributed equally to this work.
Publisher's note
Springer Nature remains neutral with regard to jurisdictional claims in published maps and institutional affiliations.
Abstract
Background
Pain due to oral mucositis (OM) is a major problem during concurrent chemoradiotherapy (CCRT) in nasopharyngeal carcinoma (NPC) patients.
Methods
We enrolled 56 NPC patients receiving CCRT and allocated them into two groups: moderate pain group (
n
 = 27) and a severe pain group (
n
 = 29) according to the degree of pain reported (moderate = numerical rating scale (NRS) score 4–6 or severe = NRS score 7–10) at initiation of controlled-release oxycodone (CRO) treatment.
Results
Total dose of CRO was significantly higher in severe pain patients than in moderate pain patients (791.60 ± 332.449 mg vs. 587.27 ± 194.940 mg;
P
 = 0.015). Moderate pain patients had significantly better quality of life (
P
 = 0.037), lower weight loss (
P
 = 0.030) and more active CCRT response (90.9% vs. 64.0%;
P
 = 0.041). Although 24-h pain control rate was comparable in the two groups (85.2% vs. 86.2%;
P
 = 0.508), the moderate pain group score eventually stabilized at ~ 2 vs. 3 in the severe pain group (
P
 < 0.001); the titration time to reach bearable pain (NRS ≤ 3) was also significantly shorter in moderate pain patients (2.45 ± 0.60 days vs. 3.60 ± 1.98 days;
P
 = 0.012). Incidence of adverse events was comparable in both groups.
Conclusions
The study findings suggest that early introduction of low-dose CRO at the moderate pain stage could help reduce the total dose required, provide better pain control, improve quality of life, and enhance CCRT response.