01.12.2016 | Methodology | Ausgabe 1/2016 Open Access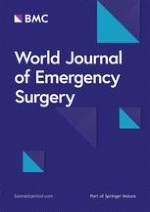 Efficacy of extra-peritoneal pelvic packing in hemodynamically unstable pelvic fractures, a Propensity Score Analysis
Zeitschrift:
Autoren:

Osvaldo Chiara, Emanuele di Fratta, Anna Mariani, Bertuzzi Michaela, Lucia Prestini, Fabrizio Sammartano, Stefania Cimbanassi
Abstract
Background
An option for emergency control of pelvic hemorrhage is Extra-peritoneal Pelvic Packing (EPP), which addresses the retroperitoneal source of exsanguination in pelvic fractures. The aim of this study was to demonstrate the efficacy of early EPP in reducing mortality due to hemorrhage from pelvic fractures, and to evaluate the impact of packing on transfusion requirements within the first 24 h and ICU length of stay (ICU-LOS).
All data pertaining trauma patients admitted from October 2002 and December 2103 with hemodynamic instability and pelvic fractures were selected from the Hospital Trauma Registry. Patients with severe brain injury and bleeding from extra-pelvic sources were excluded. Patient population was divided into two groups: EPP group, including patients admitted from 2009 to 2013, with EPP as part of the treatment algorithm, and NO-EPP group, from 2002 to 2008, without EPP as atherapeutic option. Descriptive statistical analysis was performed on allpatients. Twenty-five patients of each group with similar features were matched using Propensity Score Analysis (PSA).
Results
Six hundred eighty out of 4659 major trauma (14.6 %) presented a pelvic fracture. In 78 hemodynamically unstable patients (30 in EPP group,48 in NO-EPP group) the major source of bleeding was the pelvis. Among patients selected by PSA early mortality was significantly reduced in EPP group (20 vs 52 %,
p
 = .03) compared to NO-EPP, notwithstanding similar hemodynamic impairment. No difference was observed in transfusion requirements and ICU-LOS.
Conclusions
The EPP is a safe and quick procedure, able to improve hemodynamic stabilization and to reduce acute mortality due to hemorrhage in patients with pelvic fracture, in combination with optimized transfusion protocol. EPP may be useful as a bridge for time-consuming procedures, such as angio-embolization.