01.12.2012 | Research | Ausgabe 1/2012 Open Access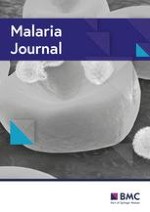 Efficacy of ICON® Maxx in the laboratory and against insecticide-resistant
Anopheles gambiae

in central Côte d'Ivoire
Zeitschrift:
Autoren:

Mirko S Winkler, Emile Tchicaya, Benjamin G Koudou, Jennifer Donzé, Christian Nsanzabana, Pie Müller, Akré M Adja, Jürg Utzinger
Wichtige Hinweise
Electronic supplementary material
The online version of this article (doi:
10.​1186/​1475-2875-11-167
) contains supplementary material, which is available to authorized users.
Mirko S Winkler, Emile Tchicaya, Benjamin G Koudou, Jennifer Donzé contributed equally to this work.
Competing interests
This study received financial support from Syngenta Crop Protection. The study design, data collection and analysis, decision to publish and preparation of the manuscript was under the responsibility of the scientists from the different research institutions. All authors declare that they have no conflict of interest. MSW, ET and JU are the guarantors of the paper.
Authors' contributions
MSW carried out the laboratory investigation and drafted the manuscript. ET and JD carried out the experimental hut trial, performed the pyrethroid resistance testing, conducted the statistical analysis and assisted in drafting the manuscript. BGK conceived the study design, coordinated the laboratory investigation and assisted with the statistical analysis. CN coordinated the experimental hut trial and assisted with the data analysis. PM analysed the field data and assisted with the manuscript revision. AMA coordinated the laboratory investigation and logistics for the experimental hut trial. JU was the overall study coordinator and contributed to the interpretation of the data and manuscript writing and revision. All authors read and approved the final manuscript.
Abstract
Background
Long-lasting treatment kits, designed to transform untreated nets into long-lasting insecticidal nets (LLINs), may facilitate high coverage with LLINs where non-treated nets are in place. In this study, the efficacy of ICON
®
Maxx (Syngenta) was evaluated under laboratory conditions and in an experimental hut trial in central Côte d'Ivoire, where
Anopheles gambiae s.s
. are resistant to pyrethroid insecticides.
Methods
In the laboratory, polyester and polyethylene net samples were treated with ICON
®
Maxx, washed up to 20 times and their efficacy determined in World Health Organization (WHO) cone assays against a susceptible laboratory
An. gambiae s.s
. colony. Over a 12-month period, the polyester nets were evaluated in a hut trial to determine mosquito deterrence, induced exophily, blood-feeding inhibition and mortality.
Results
In the laboratory, ICON® Maxx-treated polyethylene nets showed higher efficacy against pyrethroid-susceptible mosquitoes than polyester nets. After 20 washings, insecticidal efficacy in bioassays was 59.4% knockdown (KD) and 22.3% mortality for polyethylene, and 55.3% KD and 17.9% mortality for polyester nets. In experimental huts, treated nets showed strong deterrence, induced exophily and an over three-fold reduction in blood-fed mosquitoes. More than half (61.8%) of the mosquitoes entering the huts with treated nets were found dead the next morning despite high levels of KD resistance. After washing the treated nets, KD and mortality rates were close to or exceeded predefined WHO thresholds in cone bioassays.
Conclusion
In contrast to previous laboratory investigation, ICON® Maxx-treated nets showed only moderate KD and mortality rates. However, under semi-field conditions, in an area where mosquitoes are resistant to pyrethroids, ICON® Maxx showed high deterrence, induced exophily and provided a significant reduction in blood-feeding rates; features that are likely to have a positive impact in reducing malaria transmission. The WHO cone test may not always be a good proxy for predicting product performance under field conditions.