01.12.2012 | Original investigation | Ausgabe 1/2012 Open Access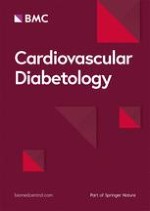 Efficacy of liraglutide, a glucagon-like peptide-1 (GLP-1) analogue, on body weight, eating behavior, and glycemic control, in Japanese obese type 2 diabetes
Zeitschrift:
Autoren:

Yuya Fujishima, Norikazu Maeda, Kana Inoue, Susumu Kashine, Hitoshi Nishizawa, Ayumu Hirata, Junji Kozawa, Tetsuyuki Yasuda, Kohei Okita, Akihisa Imagawa, Tohru Funahashi, Iichiro Shimomura
Wichtige Hinweise
Electronic supplementary material
The online version of this article (doi:
10.​1186/​1475-2840-11-107
) contains supplementary material, which is available to authorized users.
Competing interests
The authors declare no competing interests.
Authors' contributions
YF acquired and analyzed data, and wrote the manuscript. NM conceived study, analyzed data, and wrote the manuscript. KI, SK, HN, AM, JK, TY, KO, and AI acquired and researched data. TF and IS reviewed the manuscript. All authors read and approved the final manuscript.
Abstract
Background
We recently reported that short-term treatment with liraglutide (20.0 ± 6.4 days) reduced body weight and improved some scales of eating behavior in Japanese type 2 diabetes inpatients. However, it remained uncertain whether such liraglutide-induced improvement is maintained after discharge from the hospital. The aim of the present study was to determine the long-term effects of liraglutide on body weight, glycemic control, and eating behavior in Japanese obese type 2 diabetics.
Methods
Patients with obesity (body mass index (BMI) >25 kg/m2) and type 2 diabetes were hospitalized at Osaka University Hospital between November 2010 and December 2011. BMI and glycated hemoglobin (HbA1c) were examined on admission, at discharge and at 1, 3, and 6 months after discharge. For the liraglutide group (BMI; 31.3 ± 5.3 kg/m2, n = 29), patients were introduced to liraglutide after correction of hyperglycemic by insulin or oral glucose-lowering drugs and maintained on liraglutide after discharge. Eating behavior was assessed in patients treated with liraglutide using The Guideline For Obesity questionnaire issued by the Japan Society for the Study of Obesity, at admission, discharge, 3 and 6 months after discharge. For the insulin group (BMI; 29.1 ± 3.0 kg/m2, n = 28), each patient was treated with insulin during hospitalization and glycemic control maintained by insulin after discharge.
Results
Liraglutide induced significant and persistent weight loss from admission up to 6 months after discharge, while no change in body weight after discharge was noted in the insulin group. Liraglutide produced significant improvements in all major scores of eating behavior questionnaire items and such effect was maintained at 6 months after discharge. Weight loss correlated significantly with the decrease in scores for recognition of weight and constitution, sense of hunger, and eating style.
Conclusion
Liraglutide produced meaningful long-term weight loss and significantly improved eating behavior in obese Japanese patients with type 2 diabetes.