01.12.2016 | Case report | Ausgabe 1/2016 Open Access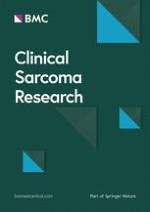 Efficacy of pazopanib and sunitinib in advanced axial chordoma: a single reference centre case series
Zeitschrift:
Autoren:

Astrid Lipplaa, Sander Dijkstra, Hans Gelderblom
Abstract
Background
Chordomas are rare malignant tumours of the axial skeleton and skull base supposed to arise from cellular remnants of the notochord. These tumours have the potential to metastasize (30–40 %), usually in the later course of the disease. However, the greatest morbidity is usually a result of loco-regional recurrence with infiltration and destruction of surrounding bone and soft tissue. Patients with unresectable or metastatic chordoma are faced with a poor prognosis since cytotoxic chemotherapy or other systemic therapies have not proven their efficacy yet. However, several molecularly targeted drugs have been proposed as potentially beneficial, including tyrosine kinase inhibitors (TKIs) directed at vascular endothelial growth factor receptor (VEGFR), like pazopanib and sunitinib.
Case presentation
Five patients with unresectable or metastatic chordoma were treated with VEGFR inhibitors pazopanib or sunitinib in the Leiden University Medical Centre (LUMC) between 2008 and 2015. Two out of four patients treated with pazopanib derived clinical benefit and disease remained stable for respectively 14 and 15 months. The one patient treated with sunitinib achieved a partial response according to RECIST 1.1 which lasted for a total of 27 months. No serious adverse events were observed.
Conclusion
These results on the use of pazopanib and sunitinib in chordoma are promising, with an objective response on sunitinib and a median progression free interval of 8.5 months (range 3–15 months), comparable to that of imatinib, in the pazopanib subgroup. However further research is needed to assess the definite role of VEGFR inhibitors in chordoma.