01.12.2016 | Study protocol | Ausgabe 1/2016 Open Access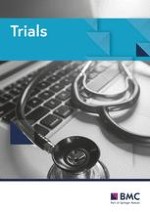 Efficacy of transcranial direct current stimulation (tDCS) in reducing consumption in patients with alcohol use disorders: study protocol for a randomized controlled trial
Zeitschrift:
Autoren:

Benoit Trojak, Agnès Soudry-Faure, Nicolas Abello, Maud Carpentier, Lysiane Jonval, Coralie Allard, Foroogh Sabsevari, Emilie Blaise, Eddy Ponavoy, Bernard Bonin, Vincent Meille, Jean-Christophe Chauvet-Gelinier
Wichtige Hinweise
Competing interests
The authors declare that they have no competing interests.
Authors' contributions
BT, JCCG and VM conceived and designed the study protocol and wrote the manuscript. ASF, NA, and LJ participated in the conception of the study, helped to draft the manuscript, and are responsible for the statistical analyses. MC and CA sought ethical approval, participated in the design and the coordination of the study, and ensured financial and all material needs were met. BB, FS, EB, and EP participated in the review of the literature, manuscript writing, and manuscript revision. The authors are the coordinators of the clinical centers that will enroll the trial participants. The corresponding author had final responsibility for the decision to submit for publication. All authors have read and approved the final version of the manuscript.
Abstract
Background
Approximately 15 million persons in the European Union and 10 million persons in the USA are alcohol-dependent. The global burden of disease and injury attributable to alcohol is considerable: worldwide, approximately one in 25 deaths in 2004 was caused by alcohol. At the same time, alcohol use disorders remain seriously undertreated.
In this context, alternative or adjunctive therapies such as brain stimulation may play a prominent role. The early results of studies using transcranial direct current stimulation found that stimulations delivered to the dorsolateral prefrontal cortex result in a significant reduction of craving and an improvement of the decision-making processes in various additive disorders. We, therefore, hypothesize that transcranial direct current stimulation can lead to a decrease in alcohol consumption in patients suffering from alcohol use disorders.
Methods/design
We report the protocol of a randomized, double-blind, placebo-controlled, parallel-group trial, to evaluate the efficacy of transcranial direct current stimulation on alcohol reduction in patients with an alcohol use disorder. The study will be conducted in 14 centers in France and Monaco. Altogether, 340 subjects over 18 years of age and diagnosed with an alcohol use disorder will be randomized to receive five consecutive twice-daily sessions of either active or placebo transcranial direct current stimulation. One session consists in delivering a current flow continuously (anode F4; cathode F3) twice for 13 minutes, with treatments separated by a rest interval of 20 min. Efficacy will be evaluated using the change from baseline (alcohol consumption during the 4 weeks before randomization) to 24 weeks in the total alcohol consumption and number of heavy drinking days. Secondary outcome measures will include alcohol craving, clinical and biological improvements, and the effects on mood and quality of life, as well as cognitive and safety assessments, and, for smokers, an assessment of the effects of transcranial direct current stimulation on tobacco consumption.
Discussion
Several studies have reported a beneficial effect of transcranial direct current stimulation on substance use disorders by reducing craving, impulsivity, and risk-taking behavior, and suggest that transcranial direct current stimulation may be a promising treatment in addiction. However, to date, no studies have included sufficiently large samples and sufficient follow-up to confirm the hypothesis. Results from this large randomized controlled trial will give a better overview of the therapeutic potential of transcranial direct current stimulation in alcohol use disorders.
Trial registration
Clinical Trials Gov,
NCT02505126
(registration date: July 15 2015).