01.12.2016 | Research article | Ausgabe 1/2016 Open Access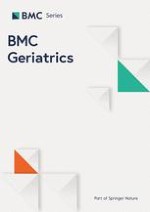 Efficacy of treadmill exercises on arterial blood oxygenation, oxygen consumption and walking distance in healthy elderly people: a controlled trial
Zeitschrift:
Autoren:

Ashraf Adel Fahmy Bichay, Juan M. Ramírez, Víctor M. Núñez, Carolina Lancho, María S. Poblador, José L. Lancho
Abstract
Background
Regular physical exercise and healthy lifestyle can improve aerobic power of the elderly, although lung capacity gradually deteriorates with age. The aims of the study are: a) to evaluate the therapeutic effect of a treadmill exercise program on arterial blood oxygenation (SaO2), maximum oxygen consumption (VO2max) and maximum walking distance (MWD) in healthy elderly people; b) to examine the outcome of the program at a supervised short-term and at an unsupervised long-term.
Methods
A prospective, not-randomized controlled intervention trial (NRCT) was conducted. Eighty participants were allocated into two homogeneous groups (training group, TG,
n
 = 40; control group, CG,
n
 = 40). Each group consisted of 20 men and 20 women. Pre-intervention measures of SaO
2
, VO
2max
and MWD were taken of each participant 1-week before the training program to establish the baseline. Also, during the training program, the participants were followed up at the 12, 30 and 48th week. The exercise program consisted of walking on a treadmill with fixed 0 % grade of inclination 3 times weekly for 48 weeks; the first 12 weeks were supervised and the remaining 36 weeks of the program were unsupervised. Participants in the control group were encouraged to walk twice a week during 45 min, and received standard recommendations for proper health.
Results
Related to the baseline, the SaO
2,
VO
2max
, and MWD is greater in the intervention group at the 12
th
(
p
<.001), 30
th
(
p
<.001) and 48
th
week (
p
<.001). Compared with the control group, there was also a significant improvement of SaO
2,
VO
2max
, and MWD valuesin the intervention group (
p
<.001) at the 12
th
(
p
<.001), 30
th
(
p
<.001) and 48
th
week (
p
<.001). Supervised intervention shows greater improvement of SaO
2,
VO
2max
, and MWD values than in the unsupervised one.
Conclusion
These results show that performing moderate exercise, specifically walking 3 days a week, is highly recommended for healthy older people, improving aerobic power.