08.04.2018 | Original Contributions | Ausgabe 9/2018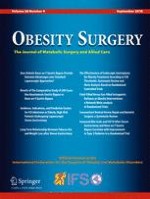 Efficacy of Utilizing Argon Plasma Coagulation for Weight Regain in Roux-en-Y Gastric Bypass Patients: a Multi-center Study
Zeitschrift:
Autoren:

Rena C. Moon, Andre F. Teixeira, Manoel Galvao Neto, Natan Zundel, Bruno Queiroz Sander, Flavio Mitidieri Ramos, Felipe Matz, Giorgio A. Baretta, Luiz Gustavo de Quadros, Eduardo Grecco, Thiago Souza, Sergio A. Barrichello, Admar Concon Filho, Eduardo Nobuyuki Usuy Jr., Artagnan Menezes Barbosa de Amorim, Muhammad A. Jawad
Wichtige Hinweise
The abstract of this article has been selected to present at International Federation for the Surgery of Obesity and Metabolic Disorders (IFSO) 2017 Annual Meeting (Aug 29th–Sep 2nd, 2017, London, UK)
Abstract
Background
Endoscopic approaches exist for targeting weight regain after Roux-en-Y gastric bypass (RYGB), including endoscopic suturing, clipping, and sclerotherapy. Argon plasma coagulation (APC) is a noncontact electrocoagulation method, and when used in RYGB patients, it has shown reduction in the diameter of the gastrojejunal anastomosis.
Objectives
To study the effectiveness of APC for weight regain in terms of weight loss for RYGB patients, from eight bariatric centers.
Methods
A retrospective chart review was performed for 558 patients at eight bariatric centers in the USA (1) and Brazil (7) who underwent APC procedure between 31st July 2009 and 29th March 2017. APC was performed on patients who regained weight after RYGB procedure.
Results
Upon exploratory analysis of the individual BMI data, the mean BMI decreased slightly during the first 24 months and increased slightly afterwards following the APC intervention. The mean weight was 94.5 ± 18.6 kg and the mean BMI was 34.0 kg/m
2
at APC. Where data were available, the mean of lowest weight was 67.0 ± 23.0 kg and the mean of lowest BMI was 24.1 kg/m
2
following gastric bypass. The mean weight loss was 6.5, 7.7, and 8.3 kg at 6, 12, and 24 months, respectively, and the changes in weight over time was statistically significant (
p
 < 0.0001). Multi-level for change model showed the low body mass index (BMI) group (BMI < 30 kg/m
2
) to have greater TWL than the high BMI (BMI ≥ 30 kg/m
2
) group at 6, 12, and 24 months. In the low BMI group, the mean TWL was 4.7, 6.1, 6.9, and 2.4%, at 6, 12, and 24 months, respectively. In the high BMI group, the mean TWL was 7.5, 10.4, 13.4, and 3.7%, at 6, 12, 24, and 36 months, respectively. Of the 333 patients in four centers who provided complication information, complications after APC included stenosis (
n
 = 9), GJ ulcer (
n
 = 3), vomiting (
n
 = 3), GJ leakage (
n
 = 2), and melena (
n
 = 1).
Conclusion
APC can be useful in reducing the regained weight after RYGB, and patients showed 6–10% total weight loss at 12 months. Randomized trials would be needed to validate the findings.