16.08.2017 | Assisted Reproduction Technologies | Ausgabe 11/2017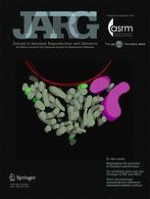 Egg donation of vitrified oocytes bank produces similar pregnancy rates by blastocyst transfer when compared to fresh cycle
Zeitschrift:
Autoren:

Thais S. Domingues, Ana Paula Aquino, Bruna Barros, Raquel Mazetto, Mariana Nicolielo, Carolina M. Kimati, Talita Devecchi, Tatiana C. S. Bonetti, Paulo C. Serafini, Eduardo L. A. Motta
Abstract
Purpose
Advances in reproductive techniques, mainly the introduction of oocyte vitrification, have provided the opportunity to conceive from oocyte banks. The aim of this study was to compare the clinical outcomes of fresh and vitrified oocytes in an egg donation program following blastocyst transfer.
Methods
This retrospective observational study included 504 oocyte donation cycles. All donor women were younger than 30 years of age. The recipient cycles were divided into two groups: fresh oocytes (
n
= 78) or vitrified oocytes (
n
= 426). All oocytes were fertilized by ICSI using ejaculated sperm, followed by blastocyst transfer. Endometrium preparation was performed with estradiol valerate plus micronized progesterone according to standard protocols.
Results
Recipients were of similar age (fresh 42.0 ± 4.5 years vs vitrified 41.8 ± 4.8 years;
p
= 0.790). The fresh group received more mature oocytes for injection compared to the vitrified group (10.1 ± 2.8 vs 9.2 ± 2.2;
p
= 0.005). The two pronuclei (2PN) rate (74.5 vs 77.4%;
p
= 0.195) and blastocyst rate (48.8 vs 51.6%; 0.329) were similar between the fresh and vitrified groups, respectively. The rates of clinical pregnancy were 60.9% in the fresh and 59.0% in the vitrified groups (
p
= 0.771).
Conclusions
Our findings suggest that vitrified oocytes result in similar pregnancy rates when compared to fresh oocytes with blastocyst transfer in an egg donation program. Moreover, vitrified oocytes may allow for a better cycle schedule, starting with a lower number of oocytes to be fertilized. Therefore, we hypothesize that egg banks with vitrified oocytes could be safely utilized in an egg donation program.