01.04.2015 | Symposium: 2014 Bernese Hip Symposium | Ausgabe 4/2015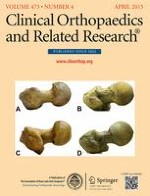 Eighty Percent of Patients With Surgical Hip Dislocation for Femoroacetabular Impingement Have a Good Clinical Result Without Osteoarthritis Progression at 10 Years
Zeitschrift:
Autoren:

MD Simon D. Steppacher, MD Helen Anwander, MD Corinne A. Zurmühle, MD Moritz Tannast, MD Klaus A. Siebenrock
Wichtige Hinweise
One of the authors (MT) has received funding from the Swiss National Science Foundation (SNSF).
Each author certifies that he or she, or a member of their immediate family, has no commercial associations (eg, consultancies, stock ownership, equity interest, patent/licensing arrangements, etc) that might pose a conflict of interest in connection with the submitted article.
All ICMJE Conflict of Interest Forms for authors and
Clinical Orthopaedics and Related Research
®
editors and board members are on file with the publication and can be viewed on request.
Each author certifies that his or her institution approved the human protocol for this investigation, that all investigations were conducted in conformity with ethical principles of research, and that informed consent for participation in the study was obtained.
Abstract
Background
We previously reported the 5-year followup of hips with femoroacetabular impingement (FAI) that underwent surgical hip dislocation with trimming of the head-neck junction and/or acetabulum including reattachment of the labrum. The goal of this study was to report a concise followup of these patients at a minimum 10 years.
Questions/purposes
We asked if these patients had (1) improved hip pain and function; we then determined (2) the 10-year survival rate and (3) calculated factors predicting failure.
Methods
Between July 2001 and March 2003, we performed surgical hip dislocation and femoral neck osteoplasty and/or acetabular rim trimming with labral reattachment in 75 patients (97 hips). Of those, 72 patients (93 hips [96%]) were available for followup at a minimum of 10 years (mean, 11 years; range, 10–13 years). We used the anterior impingement test to assess pain and the Merle d'Aubigné-Postel score to assess function. Survivorship calculation was performed using the method of Kaplan and Meier and any of the following factors as a definition of failure: conversion to total hip arthroplasty (THA), radiographic evidence of worsening osteoarthritis (OA), or a Merle d'Aubigné-Postel score less than 15. Predictive factors for any of these failures were calculated using the Cox regression analysis.
Results
At 10-year followup, the prevalence of a positive impingement test decreased from preoperative 95% to 38% (p < 0.001) and the Merle d'Aubigné-Postel score increased from preoperative 15.3 ± 1.4 (range, 9–17) to 16.9 ± 1.3 (12–18; p < 0.001). Survivorship of these procedures for any of the defined failures was 80% (95% confidence interval, 72%–88%). The strongest predictors of failure were age > 40 years (hazard ratio with 95% confidence interval, 5.9 [4.8–7.1], p = 0.002), body mass index > 30 kg/m2 (5.5 [3.9–7.2], p = 0.041), a lateral center-edge angle < 22° or > 32° (5.4 [4.2–6.6], p = 0.006), and a posterior acetabular coverage < 34% (4.8 [3.7–5.6], p = 0.006).
Conclusions
At 10-year followup, 80% of patients with FAI treated with surgical hip dislocation, osteoplasty, and labral reattachment had not progressed to THA, developed worsening OA, or had a Merle d'Aubigné-Postel score of less than 15. Radiographic predictors for failure were related to over- and undertreatment of acetabular rim trimming.
Level of Evidence
Level IV, therapeutic study.