01.02.2020 | Original Article | Ausgabe 2/2020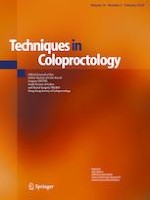 Elective surgery for tumours of the splenic flexure: a French inter-group (AFC, SFCD, FRENCH, GRECCAR) survey
Zeitschrift:
Autoren:

G. Manceau, S. Benoist, Y. Panis, A. Rault, M. Mathonnet, D. Goere, J. J. Tuech, D. Collet, C. Penna, M. Karoui
Wichtige Hinweise
The present article is based on a previous communication to the ACHBT-SFCD meeting on November 2018 in Paris.
Publisher's Note
Springer Nature remains neutral with regard to jurisdictional claims in published maps and institutional affiliations.
Abstract
Background
In an elective setting, there is no consensus regarding the type of colectomy that is best for patients with tumors of the splenic flexure: segmental left colectomy (or splenic flexure colectomy), left hemicolectomy or subtotal colectomy (or extended right hemicolectomy). In the United Kingdom, extended right hemicolectomy is preferred by surgeons. The aim of the present survey was to report on the practices in France for this particular tumor location.
Methods
Between 15/07/17 and 15/10/17, members of two French surgical societies [the French Association of Surgery (AFC) and the French Society of Digestive Surgery (SFCD)] and two French surgical cooperative groups [the French Federation of Surgical Research (FRENCH) and the French Research Group of Rectal Cancer Surgery (GRECCAR)] were solicited by email to answer an online anonymous questionnaire.
Results
A total of 190 out of 420 surgeons participated in this study (response rate 45%). The preferred procedure was splenic flexure colectomy (70%), followed by left hemicolectomy (17%) and subtotal colectomy (13%). The most used surgical approach was laparoscopy (63%), followed by laparotomy (31%) and hand-assisted laparoscopy (6%). Lymph node dissection was extended to the middle colic artery in 29% of splenic flexure colectomies and in 33% of left hemicolectomies. Twenty-nine percent of responders thought that tumors of the splenic flexure had a worse prognosis in comparison with other colonic sites, because of insufficient lymph node dissection (73%) or a more advanced stage (50%) at diagnosis. However, this opinion did not change the type of colectomy performed.
Conclusions
There is a strong consensus in France to operate tumors of the splenic flexure with a splenic flexure colectomy and lymph node dissection limited to the left colic artery.