22.01.2019 | Ausgabe 11/2019 Open Access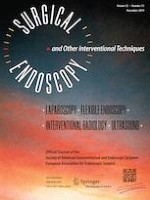 Electrical lower esophageal sphincter augmentation in patients with GERD and severe ineffective esophageal motility—a safety and efficacy study
Zeitschrift:
Autoren:

Matthias Paireder, Ivan Kristo, Reza Asari, Gerd Jomrich, Johanns Steindl, Erwin Rieder, Sebastian F. Schoppmann
Wichtige Hinweise
Publisher's Note
Springer Nature remains neutral with regard to jurisdictional claims in published maps and institutional affiliations.
Abstract
Background
Laparoscopic fundoplication (LF), even if performed in specialized centers, can be followed by long-term side effects such as dysphagia, gas bloating or inability to belch. Patients with an ineffective esophageal motility (IEM) and concurrent GERD are prone to postoperative dysphagia after LF. The aim of this study is to evaluate the safety and efficacy of electrical lower esophageal sphincter stimulation in patients with IEM and GERD.
Methods
This is a prospective, open-label single center study. Patients with PPI-refractory GERD and ineffective esophageal motility were included for lower esophageal sphincter electrical stimulation (LES-EST). Patients underwent prospective follow-up including physical examination, interrogation of the device and were surveyed for changes in the health-related quality of life score.
Results
According to power analysis, 17 patients were included in this study. Median distal contractile integral (DCI) was 64 mmHg s cm (quartiles 11.5–301). Median total % pH < 4 was 8.9 (quartiles 4–21.6). Twelve patients (70.6%) underwent additional hiatal repair. At 1-month follow-up, none of the patients showed any clinical or radiological signs of dysphagia. There were no procedure related severe adverse events. Mean total HQRL improved from baseline 37.53 (SD 15.07) to 10.93 (SD 9.18) at follow-up (FUP) (mean difference 24.0 CI 15.93–32.07)
p
 < 0.001.
Conclusions
LES-EST was introduced as a potential technique to avoid side effects of LF. LES-EST significantly improved health related quality of life and does not impair swallowing in patients with GERD and ineffective esophageal motility.