01.12.2017 | Study protocol | Ausgabe 1/2017 Open Access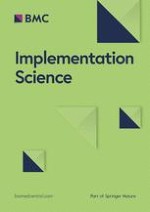 Electronic audit and feedback intervention with action implementation toolbox to improve pain management in intensive care: protocol for a laboratory experiment and cluster randomised trial
Zeitschrift:
Autoren:

Wouter T. Gude, Marie-José Roos-Blom, Sabine N. van der Veer, Evert de Jonge, Niels Peek, Dave A. Dongelmans, Nicolette F. de Keizer
Wichtige Hinweise
Electronic supplementary material
The online version of this article (doi:
10.​1186/​s13012-017-0594-8
) contains supplementary material, which is available to authorized users.
Abbreviations
NICE
National Intensive Care Evaluation Foundation
RCT
Randomised controlled trial
SEIPS
Systems Engineering Initiative for Patient Safety
Background
Yearly, approximately 90,000 critically ill patients are admitted to Dutch intensive care units (ICU) [
1
]. During their time in the ICU many patients are exposed to adverse experiences; acute pain being a leading stressor [
2
]. Physical and psychological stresses caused by pain have been associated with increased length of stay, morbidity and poor mental health outcomes [
3
–
5
], and affect quality of life even after ICU discharge [
6
,
7
]. Interview studies revealed that almost half of ICU patients experience moderate to severe pain both at rest as well as during procedures [
8
–
11
]. There remains a large gap between ideal and actual care with respect to pain management in intensive care, making it a suitable target for quality improvement (QI) strategies, such as audit and feedback (A&F) [
12
–
15
]. A&F has been defined as a "summary of clinical performance in a specific area with or without recommendations for action" [
16
] and aims to support physicians in accurate self-assessment [
17
].
A Cochrane review of 140 A&F studies [
18
] concluded that feedback is effective, but with only a median 4.3% absolute improvement (interquartile range 0.5 to 16%). In fact, a quarter of the studies showed negative or no effect. No effect was also found in a previous A&F trial undertaken by the National Intensive Care Evaluation (NICE) quality registry in Dutch intensive care units [
19
,
20
]. A qualitative evaluation explained that physicians experienced several barriers to achieving QI, such as lack of normative standards and benchmarks, inadequate case-mix adjustment, lack of knowledge on how to improve and insufficient allocated time and staff [
21
]. In attempt to delineate how to most effectively design and deliver A&F interventions, meta-analyses have indicated that A&F may be more effective when baseline performance is low, the source is a supervisor or colleague, it is provided more than once, it is delivered in both verbal and written formats, and when it includes correct solution information, explicit targets, and an action plan [
18
,
22
,
23
]. However, there is little information to guide operationalisation of these factors [
24
], limiting the progress with which we learn how to design and deliver effective A&F interventions [
25
]. A recent systematic review of electronic A&F trials alone similarly stressed the scarcity of evidence of effectiveness and the underuse of theory [
26
]. Researchers have consequently called for theory-informed design and evaluation of A&F interventions, and two-armed trials of different approaches to providing A&F to stimulate this progress [
27
].
Theoretical framework
Figure
1
depicts our theoretical framework which we based on control theory, specified to reflect the mechanisms through which physicians aim to improve their clinical performance. Control Theory predicts that, if they make a negative assessment of their clinical performance by comparing their performance to a target, physicians develop intentions to take improvement actions and continue these actions until their performance matches the target [
28
]. However, if they observe discrepancy that is too great, or lack the skills or knowledge on how to improve, recipients may disregard the discrepancy or lower their target to make it more achievable [
23
,
28
,
29
].
×
Studying the information–intention gap in audit and feedback
The key assumption behind the success of A&F is that it may improve the accuracy with which physicians self-assess [
17
]. A&F introduces an external source of information consisting of reports of physicians' own performance and normative data for comparison measured directly from patient records. To that end, A&F attempts to correct potentially inaccurate perceptions of physicians' own clinical performance and which targets reflect an appropriate performance level. Inaccurate self-assessments may falsely convince physicians that improvement is or is not desirable, resulting in a "misplaced" focus of improvement intentions [
30
]. However, this key assumption, i.e. whether A&F yields more accurate self-assessments and adequate improvement intentions, has not been evaluated empirically. This step, to which we will refer as the information–intention gap, is essential in order to initiate behaviour change to improve practice.
Closing the intention–behaviour gap in audit and feedback with an action implementation toolbox
In practice, physicians often do not have the time, capacity or skills to interpret feedback and formulate what improvement action is necessary [
21
,
31
,
32
]. Similarly, they can experience barriers preventing them to implement their intended actions [
33
]. Recognizing that providing feedback information alone may be insufficient for recipients to translate their improvement intentions into behaviour, A&F interventions have been frequently combined with successful but both intensive and expensive co-interventions, such as educational outreach visits [
34
]. These co-interventions presumably work because they convince and help participants to take action to improve patient outcomes. Therefore, an intervention aimed to close the intention–behaviour gap could be very effective. In this study, we hypothesise that augmenting A&F with an action implementation toolbox containing a list of potential barriers in the care process and suggested actions, and supporting materials to facilitate the implementation of actions, helps ICU professionals to turn their intention into action and enhances the likelihood that actions will be completed. Figure
1
illustrates the potential role of the toolbox on effectiveness of A&F.
Study objectives and hypotheses
The study has two primary objectives around a newly developed electronic A&F intervention that aims to improve clinical performance on recently developed quality indicators relating to pain management in Dutch ICUs:
1.
To investigate the extent to which A&F influences physicians' self-assessments of their performance and intentions to improve practice; and
2.
To assess the effects of our electronic A&F intervention with an action implementation toolbox compared to the intervention without toolbox.
We hypothesise that ICUs receiving the A&F intervention will achieve improvements regardless of whether they have access to the toolbox, but that ICUs using the toolbox will achieve larger and faster improvements than those ICUs that do not. Our secondary objective is to understand how the intervention is implemented and used in clinical practice, and how implementation and use affect the intervention's impact.
Methods
Discussion
In order to learn how to design and deliver effective electronic A&F interventions, we need to understand the mechanisms of how A&F leads to improvements in clinical performance. Our study uses a theory-informed approach to investigate how A&F affects improvement intentions among ICU professionals (i.e. information–intention gap), and whether an action implementation toolbox with suggested actions and materials helps translating those intentions into action (i.e. intention–behaviour gap) in a two-armed RCT. The laboratory experiment, RCT and the comprehensive process evaluation are expected to provide insightful understanding of the mechanisms behind A&F.
Strengths and limitations
The principal strength of our study is the extensive use of Control Theory [
28
] as a basis for our study objectives, design and evaluation. Although there is growing recognition that theory should play a central role in the design and evaluation of A&F interventions [
27
], explicit use of theory remains scarce [
26
,
58
]. For example, the laboratory experiment (study part 1) will test the hypothesis that A&F improves self-assessments of clinical performance and hence improvement intentions; this hypothesis is typically assumed to be true in A&F studies but has not, to the best of our knowledge, been evaluated empirically. Also, while the large majority of quantitative evaluations A&F interventions solely report effects on clinical performance, our study will also explore the underlying mechanisms of A&F in an extensive process evaluation. Due to the electronic nature of our A&F dashboard, we are able to observe essential behavioural constructs such as intentions (planned actions), and behaviour change (completed actions), allowing us to quantify and study their relationships and potentially explain any outcome variation [
57
]. Further, because we will perform the qualitative part of our process evaluation guided by quantitative process reports, we may be able to make more effective and efficient use of our qualitative method by asking more focused questions.
We based the design of our intervention on theoretical and empirical evidence from A&F literature and carefully considered what feedback information to provide and how to present it [
18
,
23
,
28
,
30
,
45
,
59
–
62
]. Although this increases the probability that the intervention as a whole will positively affect intensive care performance, we know from four decades of A&F trials that the effects are variable and often marginal [
18
]. Therefore, an RCT comparing the intervention to usual care would produce a limited amount of new knowledge [
25
]. In line with the international research agenda for A&F studies, our head-to-head comparison of different approaches to A&F delivery, with versus without action implementation toolbox, will contribute to speeding up the rate with which we identify the active ingredients of successful A&F interventions [
27
].
There are some limitations relating to the selection of participants in our study. Eligible ICUs are participating in the NICE registry, are capable of submitting the data items for the quality indicators and agree to allocate a QI team. These criteria may lead to the selection of a non-representative sample of ICUs, because eligible facilities are less likely to be understaffed and more likely to have information technology support to facilitate routine collection of NICE data. Therefore, the generalisability of our findings may be limited to ICUs that are motivated and equipped to systematically monitor and improve the quality of care they deliver. However, as information technology support are rapidly improving in most hospitals, we believe that this will be of less concern in the future. Finally, there is some evidence that non-teaching hospitals use pain assessment tools more often than teaching hospitals [
12
]. Even though applying a stratification method according to hospital type would equalise the distribution of hospital types over the two arms in the RCT (study part 2) and thus prevent confounding by this variable [
63
], we expect there will be insufficient participants to do so. Therefore, in case of an imbalance between arms at baseline, we will assess the robustness of our findings by means of a sensitivity analysis.
Potential implications for practice and research
The results of this study will inform providers and managers in ICU or other clinical settings on how to use indicator-based performance feedback in conjunction with an action implementation toolbox to accelerate systematic local QI. Within the ICU context, this study will produce concrete and directly applicable knowledge with respect to what is or is not effective for improving pain management, and under which circumstances. If the study is successful, the dashboard and action implementation toolbox will be made available to all 83 ICUs in the Netherlands (100%) that currently participate in the NICE registry.
The results will also guide future research that aims to understand the mechanisms behind A&F and identify success factors of effective interventions. For example, if the laboratory experiment in study part 1 shows that ICU professionals' intentions are not or rarely influenced by feedback, an implication is that more effort should be put in closing the information–intention gap before seeking to enhance any subsequent step in the A&F cycle. Alternatively, its feedback does effectively influence intentions, room for improving A&F interventions is more likely found in subsequent steps. Second, a positive result from the RCT in study part 2 will suggest that the addition of an action implementation toolbox effectively reduces the intention–behaviour gap. The process evaluation may then reveal how, e.g. because it helps ICU professionals overcome a knowledge, time, capacity or skill barrier to come up with or complete actions. An effective toolbox could take over the role of costly and labour-intensive co-interventions such as educational outreach visits while increasing intervention feasibility. However, a negative result from the RCT will suggest a need for a revision of the toolbox in terms of contents or usability, or alternative or more intensive approaches to facilitate ICU professionals to achieve their QI targets.
Future research
Our research team is currently extending the set of quality indicators and the action implementation toolbox to cover blood transfusions, antibiotic use, and mechanical ventilation (e.g. [
64
]). ICUs that complete the RCT and submit all data items necessary to calculate the new indicators will all gain access to the toolbox and receive performance feedback on the new indicators in addition to the ones relating to pain management. Our future research will aim at validating our study results by means of an interrupted time series analysis and preceding laboratory experiment using these indicators.
Acknowledgements
The authors would like to acknowledge all clinicians that provided input for the development of the quality indicators and action implementation toolbox. We also thank our software engineers Richard Minne, Eric van der Zwan and Winston Tjon Sjoe Sjoe for their work in developing the NICE dashboard, and Rebecca Holman for her statistical assistance.
Funding
This study was funded by the National Intensive Care Evaluation (NICE) foundation's own resources.
Availability of data and materials
Not applicable.
Authors' contributions
All authors contributed to study conception and participated in critically appraising and revising the intellectual content of the manuscript. WG and MRB were equally and primarily responsible for the manuscript draft. All authors read and approved the final manuscript.
Competing interests
The authors declare that they have no competing interests.
Consent for publication
Not applicable.
Ethics approval and consent to participate
The Institutional Review Board (IRB) of the Academic Medical Center (Amsterdam, The Netherlands) informed us that formal IRB approval and patient consent was not deemed necessary because to the focus of intervention on improving organisational processes; individual patients will not be directly involved (IRB reference number: W16_271). Additionally, in the Netherlands there is no need to obtain consent to use data from registries that do not contain patient-identifying information, as is the case in the NICE registry. The NICE foundation is officially registered according to the Dutch Personal Data Protection Act.
Publisher's Note
Springer Nature remains neutral with regard to jurisdictional claims in published maps and institutional affiliations.
Open Access
This article is distributed under the terms of the Creative Commons Attribution 4.0 International License (
http://​creativecommons.​org/​licenses/​by/​4.​0/​
), which permits unrestricted use, distribution, and reproduction in any medium, provided you give appropriate credit to the original author(s) and the source, provide a link to the Creative Commons license, and indicate if changes were made. The Creative Commons Public Domain Dedication waiver (
http://​creativecommons.​org/​publicdomain/​zero/​1.​0/​
) applies to the data made available in this article, unless otherwise stated.