03.01.2020 | Clinical Case Report | Ausgabe 3/2020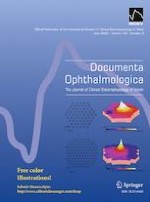 Electroretinographic abnormalities associated with pregabalin: a case report
Zeitschrift:
Autoren:

Wakana Ninomiya, Kei Mizobuchi, Takaaki Hayashi, Sachiyo Okude, Satoshi Katagiri, Akiko Kubo, Nami Masuhara, Tadashi Nakano
Wichtige Hinweise
Electronic supplementary material
Publisher's Note
Springer Nature remains neutral with regard to jurisdictional claims in published maps and institutional affiliations.
Abstract
Purpose
Pregabalin binds to the
α
2–
δ
1/
α
2–
δ
2 subunits of the voltage-gated L-type calcium channel (LTCC), which is expressed in rod/cone photoreceptor terminals. The purpose of this report was to describe electroretinographic abnormalities associated with pregabalin treatment.
Case presentation
This is an observational case report. A 49-year-old female reported photophobia and night blindness in her left eye after 10 months of pregabalin administration. One month after the symptoms, ophthalmic examinations were performed, which revealed good visual acuity and no remarkable fundus findings. However, full-field electroretinography (ERG) of the left eye revealed a decreased b-wave in rod ERG, a slightly decreased a-wave and severely decreased b-wave (negative ERG) in bright flash ERG, decreased a- and b-waves in cone ERG, and decreased b-waves in 30-Hz flicker ERG. These findings are similar to those seen in incomplete congenital stationary night blindness, whereas the right eye ERG showed normal responses, except for a square a-wave in cone ERG. The ERG gradually improved from 1 to 12 months after discontinuing pregabalin. Finally, b-waves in bright flash ERG and cone ERG responses largely recovered, but b-waves in rod ERG and a-waves in bright flash ERG only partially recovered in the left eye. The square a-wave recovered to normal in the right eye.
Conclusions
This is the first report to indicate that ERG abnormalities might be associated with pregabalin treatment. Our results suggest that pregabalin may affect LTCC function via the
α
2–
δ
1/
α
2–
δ
2 subunits, which leads to defective synaptic transmission from rod/cone photoreceptors to bipolar cells.