01.12.2010 | Research | Ausgabe 1/2010 Open Access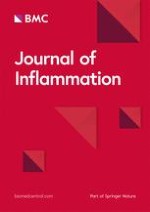 Elevated endotoxin levels in non-alcoholic fatty liver disease
Zeitschrift:
Autoren:

Alison L Harte, Nancy F da Silva, Steven J Creely, Kirsty C McGee, Thomas Billyard, Elham M Youssef-Elabd, Gyanendra Tripathi, Esmat Ashour, Mohga S Abdalla, Hayat M Sharada, Ashraf I Amin, Alastair D Burt, Sudhesh Kumar, Christopher P Day, Philip G McTernan
Wichtige Hinweise
Electronic supplementary material
The online version of this article (doi:
10.​1186/​1476-9255-7-15
) contains supplementary material, which is available to authorized users.
Alison L Harte, Nancy F da Silva contributed equally to this work.
Competing interests
The authors declare that they have no competing interests.
Authors' contributions
ALH for the design, statistical analysis, manuscript development and final revision of the paper, NFS for the design, statistical analysis, drafting of the manuscript and manuscript development; SJC for the drafting and revising of the manuscript; KM, TB and EMY for their practical and intellectual input; GT for the statistical analysis and interpretation of data; EA, MSA HMS and AIA for their interpretation of data and intellectual input; ADB for the acquisition and interpretation of data; SK for the interpretation of data and intellectual input; CPD for the concept, acquisition and interpretation of data; PM for the concept, design, interpretation of data and intellectual input. All authors read and approved the final manuscript.
Abstract
Background
Emerging data indicate that gut-derived endotoxin may contribute to low-grade systemic inflammation in insulin resistant states. This study aimed to examine the importance of serum endotoxin and inflammatory markers in non-alcoholic fatty liver disease (NAFLD) patients, with and without type 2 diabetes mellitus (T2DM), and to explore the effect of treatment with a lipase inhibitor, Orlistat, on their inflammatory status.
Methods
Fasted serum from 155 patients with biopsy proven NAFLD and 23 control subjects were analysed for endotoxin, soluble CD14 (sCD14), soluble tumour necrosis factor receptor II (sTNFRII) and various metabolic parameters. A subgroup of NAFLD patients were re-assessed 6 and 12 months after treatment with diet alone (n = 6) or diet plus Orlistat (n = 8).
Results
Endotoxin levels were significantly higher in patients with NAFLD compared with controls (NAFLD: 10.6(7.8, 14.8) EU/mL; controls: 3.9(3.2, 5.2) EU/mL, p < 0.001); NAFLD alone produced comparable endotoxin levels to T2DM (NAFLD: T2DM: 10.6(5.6, 14.2) EU/mL; non-diabetic: 10.6(8.5, 15.2) EU/mL), whilst a significant correlation between insulin resistance and serum endotoxin was observed (r = 0.27, p = 0.008). Both sCD14 (p < 0.01) and sTNFRII (p < 0.001) increased with severity of fibrosis. A positive correlation was also noted between sTNFRII and sCD14 in the NAFLD subjects (r = 0.29, p = 0.004).
Sub-cohort treatment with Orlistat in patients with NAFLD showed significant decreases in ALT (p = 0.006), weight (p = 0.005) and endotoxin (p = 0.004) compared with the NAFLD, non-Orlistat treated control cohort at 6 and 12 months post therapy, respectively.
Conclusions
Endotoxin levels were considerably increased in NAFLD patients, with marked increases noted in early stage fibrosis compared with controls. These results suggest elevated endotoxin may serve as an early indicator of potential liver damage, perhaps negating the need for invasive liver biopsy. As endotoxin may promote insulin resistance and inflammation, interventions aimed at reducing endotoxin levels in NAFLD patients may prove beneficial in reducing inflammatory burden.