01.08.2011 | Translational Research and Biomarkers | Ausgabe 8/2011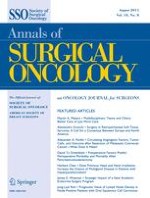 Elevated Expression of the Stem Cell Marker CD133 Associated with Line-1 Demethylation in Hepatocellular Carcinoma
Zeitschrift:
Autoren:

MD Changsong Zhang, MD Yun Xu, MD Jun Zhao, MD Lieying Fan, MD Guocheng Jiang, MD Rong Li, MD Yang Ling, MD Mengchao Wu, MD, PhD Lixin Wei
Wichtige Hinweise
Changsong Zhang, Yun Xu, Jun Zhao authors contributed equally to this work.
Abstract
Background
The relationship of Line-1 demethylation and the CD133 expression of cancer stem cells were discussed in hepatocellular carcinoma (HCC).
Methods
In 95 HCC and matched nontumor tissues, we analyzed the methylation level of Line-1 by quantitative real-time methylation-specific polymerase chain reaction, and the expression of CD133 by real-time reverse transcriptase–polymerase chain reaction and immunohistochemistry.
Results
Unmethylation of Line-1 increased from nontumor tissues (1.23 × 107 copies/μg DNA) toward HCC tissues (2.99 × 107 copies/μg DNA), but methylation of Line-1 kept 2 × 108 copies/μg DNA around in HCC and nontumor tissues. The methylation index (MI) of Line-1 decreased from 0.919 in nontumor samples to 0.755 in HCC. Results showed that cumulative survival was significantly shorter in HCC patients with MI < 0.76 than that in patients with MI ≥ 0.76. CD133 mRNA expression were higher in HCC tissues (mean −∆Ct = −5.751) than that in nontumor tissues (mean −∆Ct = −6.742). A total of 73 (76.8%) patients had demethylation of Line-1 (∆MI < 0), and 22 (23.2%) patients had hypermethylation of Line-1 (∆MI ≥ 0). HCC with demethylation of Line-1 had elevated CD133 expression in tumor rather than matched nontumor tissues (mean −∆∆Ct = 1.101), but HCC with hypermethylation of Line-1 was considered to be lower with CD133 expression in tumor (mean −∆∆Ct = −0.409).
Conclusions
Line-1 hypomethylation is the most common molecular abnormality during the carcinogenic process. Elevated expression of CD133 was associated with demethylation of Line-1 in HCC.